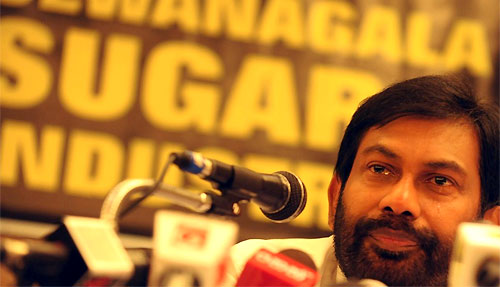 Sevanagala Sugar Industries Ltd which had been taken over by the Government under the Act to Acquire Underperforming and Underutilised Assets was to be handed over to a private sector agro business company, its chairman Daya Gamage charged.
Mr. Gamage said one of the directors of this agro business company had been included in the committee that was to be given authority of the Sevanagala Sugar Industries Ltd. He said the head of a business chamber had also been appointed to this committee.
He questioned as to how the Government could re-privatise it after telling the public that they would be developed by the state itself after taking it over.
He also charged that none of the managerial level employees of Sevanagala Sugar Industries Ltd were involved in the stock verification carried out by the Government several days ago. He said it was obvious that the stock verification should have been done in cooperation with the managers of Sevanagala Sugar Industries Ltd., who were dealing with stocks, but the state officials who were involved in it allowed the representatives of ruling SLFP trade unions to participate in it.
Mr. Gamage said his lawyers would refer this case to the international courts shortly.
Source: Daily Mirror - Sri Lanka