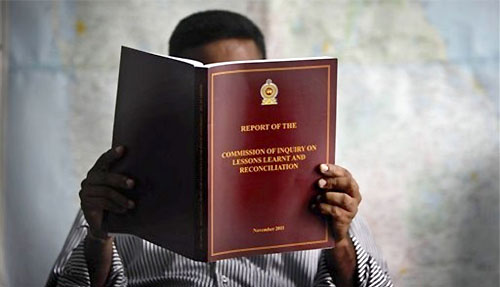 When Sri Lanka put a stop to the thirty-year-old bloody war in May 2009, it would have never felt the need to establish an institution such as the Lessons Learnt and Reconciliation Commission (LLRC) had not the international pressure compelled the government for such an establishment. After many months of fact-finding, the committee members can heave a sigh of relief as the report is now ready to make its appearance in public.
The report which was tabled in Parliament last Friday stated that the current political culture of the country had made its people powerless to such a degree that they view political influence as the only means to obtain services they are entitled to. In fact, it is commendable that the Commission could unveil the root cause of all the prevailing impunities; an uprooting of which, no doubt, is urgently needed to assure the smooth run of the reconciliation process.
The revelations by the Committee may trigger many a criticism, as it puts forward the facts without sugarcoating or trying to please the body that appointed it to the mission. There is also a possibility of the government using the Committee's evenhandedness to say the high-heads of the government had been 'good boys' who respected the democratic principles too much to interfere with the LLRC report.
Now that the much anticipated report is out which is believed to have the remedies for all the ills that stratified and confined the country's ethnic groups to disturbing boundaries, it should be followed and put into practice rather than scanning it for loopholes.
If the government is genuine in their reconciliation efforts, it should not let this blow in the wind; a fate predicted by people who are not very optimistic about the state mechanisms. However, the state patronage alone will not save the report from condemnation, as it is reported to have not countered a few of the most crucial and controversial allegations directed by the UN experts' panel report.
However, despite the outcry of the International NonGovernmental Organizations and the civil society organizations, the material provided in the LLRC report is more than sufficient to work on, if the government wants to lay to rest all the allegations and prove Sri Lanka to be a land of sustained peace.
It is therefore, imperative that the government shifts its focus to avoid recurrence of another war by assuring equal opportunities to every citizen of the country despite their ethnicity, caste and religion. It is their responsibility to make sure that no one is segregated or restricted to their respective ethnic communities. By doing so, the government needs to close the doors to extremists who fan the flames of rebellion for their private propagandas.
Only then will the LLRC report be a real lessons learnt, and a lesson worth learning to sustain the hardwon peace that came in the expense of so many innocent lives; the scars of which are not easy to erase.
Source: Daily Mirror - Sri Lanka