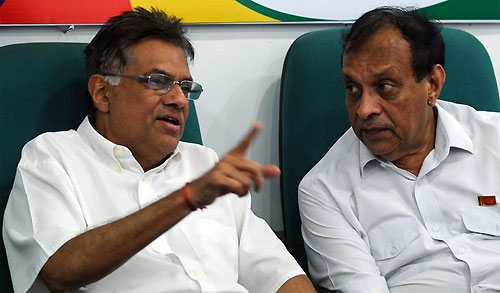 Malwatte Mahanayake Thera Ven. Thibbotuwawe Sri Siddhartha Sumangala Thera yesterday expressed serious concern over the discrimination meted out to rivals and the negative response to repeated requests by the Mahanayake Theras to release former Army Commander Sarath Fonseka.
During a meeting with a group of UNP Parliamentarians including Tissa Attanayake, Lakshman Kiriella, Dr. Jayalath Jayawardene and Ravi Karunanayake. The Mahanayake Thera also said Sarath Fonseka was considered a political prisoner and not a criminal by the international community.
The UNP Parliamentarians met the Mahanayakes of the Malwatte and the Asgiriya Chapters to create awareness on the petition which is to be signed by 100,000 people demanding the release of the former Army Commander.
However, Ven. Sumangala Thera refused to be a party to the petition forwarded to the government that ignored previous requests of the Mananayaka Theras.
Later the group of Parliamentarians met the Anunayake of the Asgiriya Chapter Ven. Galagama Sri Attadassi Thera.
The Ven Thera said the circumstances that led to legal action against the former Army Commander should be considered first.
"He has been sentenced to three years imprisonment by court. Signing of a petition in this manner would be an attempt to undermine the judiciary. The Maha Sangha in the country attempted to secure the release of the former Army Commander who was largely responsible for defeating terrorism in the country. However, he carried out the orders of President Mahinda Rajapaksa as the head of state."
Source: Daily Mirror - Sri Lanka