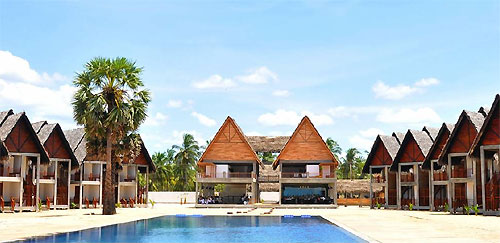 The land in Pasikuda given to the Malu Malu resort hotel had been sold at a price as low as Rs 1000 an acre, UNP MP Dr. Harsha De Silva charged in Parliament yesterday.
Speaking during the committee stage debate on the budget in the House, Dr. Silva said the hotel was earning Rs 25,000 from each room after obtaining the land at an unusually cheap rate.
Coming up with more disclosures, the UNP MP said the land where the CATIC Hotel was to be set up had now been given to Indian Tobacco Company on a 99 year lease. Dr. De Silva who tabled a document which he said contained the BOI seal said a 167 hectare land in Sooriyawewa had been handed over to Sri Lanka Cricket for Rs 140 million while another 1.3 hectare land in Bingiriya had been given to Amnandra Enterprises for Rs 150,000.
Dr. De Silva also said the Army had got into a deal with an American company to grow bananas at Somawathiya in Ampara. He informed the House that the said company had suspended the project while charging that several Ministries including the Defence and Development were involved in land deals with private companies. Dr. De Silva questioned as to how these ministries could handle the subject instead of the Lands Ministry. "Why should the other ministries and the army deal with issues relating to land when a separate ministry is established to handle the subject," he said.
Source: Daily Mirror - Sri Lanka