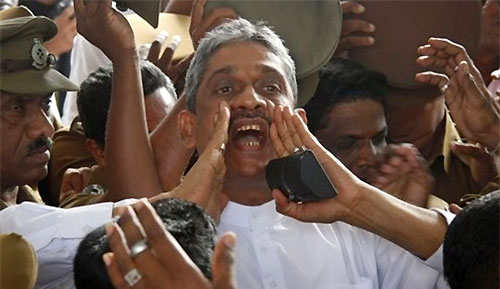 The Court of Appeal yesterday dismissed former Army Commander Sarath Fonseka's writ petition challenging the verdict of the 2nd Court Martial that sentenced him to 30 months in jail. The three-judge bench comprising Justice Eric Basnayake with Justices A.W.A. Salam and Upaly Abeyratne in a unanimous decision said the former army commander was guilty of non disclosure of a family relationship in the Hicorp case. Therefore the Court ruled that he was not entitled to a discretionary remedy and dismissed the petition but made no order for costs on the basis that he was serving a prison term.
Mr. Fonseka in his writ petition cited Army Commander Jagath Jayasuriya, Maj. Gen M.P. Peiris, Maj. Gen S.W.L. Daulagala, Maj. Gen. H.hathurusinghe, Deputy Solicitor General (Rear Admiral) W.J.S. Fernando and the Attorney General as respondents. President's Counsel Romesh de Silva with Sugath Caldera, Wasantha Batagoda, Riad Ameen, Shanaka Cooray and Eraj de Silva instructed by Paul Ratnayake Associates appeared for Mr. Fonseka while Additional Solicitor General Bimba Tilekeratne with Deputy Solicitor General Buveneka Aluvihare and Counsel Nerin Pulle, Shaminda Wickramesinghe and Deepthi Tilegewardene appeared for the1st, 5th and 6th respondents. Counsel S.L. Gunasekera and Sanjeeva Jayawardene instructed by Sudath Perera Associates appeared for 2nd, 3rd and 4th respondents.
Mr. Fonseka said he was invited by the main opposition parties to contest the 2010 Presidential Election as the "common candidate". He lamented that ever since his nomination there had been a coherent, systematic and discernible course of events, amounting in law to targeted malice. He was taken into military custody on February 8 last year and kept in custody until the Court Martial. In the first Court Martial, he was charged that he engaged in political activities whilst being subject to military law.
He was convicted of the charges on being sentenced he was cashiered from the Army. He said that while in military custody, he contested the April 2010 general elections and was elected to the Parliament.
The 2nd Court Martial was convened on March 17 last year and Mr. Fonseka was charged with having served as Chairman of the Tender Board pertaining to the procurement of military merchandise.
In the four charges, the tenders were awarded to British Borneo Defense of Australia through Hicrop (Pvt) Ltd. and it was alleged that his son-in-law Danuna Tilekeratne had an interest or concern in Hicrop Ltd and that when this relationship was disclosed; Mr. Fonseka should have dissociated himself from the tender process in accordance with the Procurement Guidelines of 2006.
The charges alleged that the Petitioner by concealing or failing to disclose that Danunu Tilekeratne is his son-in-law committed a fraudulent act punishable under Army Act.
The Court of Appeal held that the Petitioner cannot escape without clearing the issue relating to bias with a sweeping statement that it is not relevant and observed that the Counsel for the Petitioner is no longer relying on bias as a ground to support the writ petition.
Source: Daily Mirror - Sri Lanka