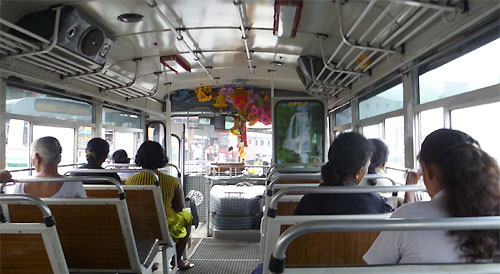 Chairman of the National Transport Commission (NTC) Shashi Welgama yesterday asserted that as per the National policy, there would not be any increase, in the bus fares despite the increase in the price of diesel by eight rupees.
Addressing the media at a news conference that was held jointly by the National Transport Commission, the Federation of All Island Private Bus Companies, and the Inter-province Private Bus Owners' Association, he said that the national policy on bus fares was introduced in 2002 and according to that document when the increase in the price of diesel increases by 4% an increase in the bus fares is allowed but however the present increase of diesel by rupees eight amounts to only a 3.26% increase. Therefore, the government is unable to allow them to increase bus fares, he said.
Two private bus companies had already assured the commission that they would not resort to a bus strike, and they should be mindful of the fact that a reduction of tyre prices by 50% and various other concessions too had been given in this year's budget.
Source: Daily Mirror - Sri Lanka