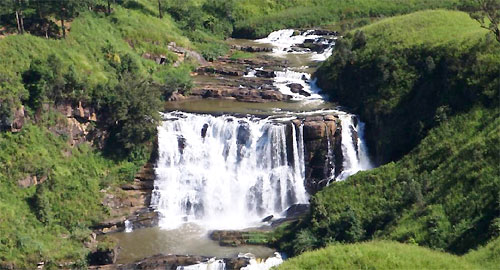 With the commencement of the filling of the Upper Kotmale reservoir last morning, the volume of water in the St. Claire waterfall which had won the hearts of many tourists and environmentalists began to diminish and was reduced to a trickle.
Project director Shavindranath Fernando said that once the reservoir filled to a height of 80 metres, the waterfall would regain its former volume and appearance. Water is diverted through a 12.5 Km. long tunnel to the Niyangandara Hydropower Plant. It is estimated that it would take about 20 hours to fill the reservoir.
The testing of the generators will be done before year end, according to the official.
The Upper Kotmale Hydropower Project is a run of river hydropower project with an installed capacity of 150MW. consisting of two 75MW. units. When completed, it will produce 409GWH per year.
The project is implemented by the Ceylon Electricity Board under the supervision of the Ministry of Power and Energy.
Source: Daily Mirror - Sri Lanka