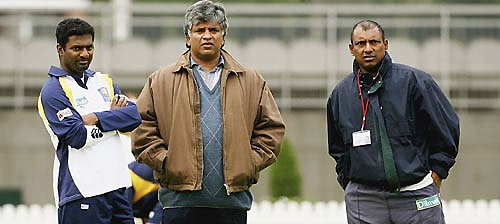 Former Sri Lankan cricket captain turned opposition politician Arjuna Ranatunga and his deputy skipper Aravinda de Silva were accused of match fixing by Gamini Lokuge, a former Minister of Sports, in Parliament yesterday. Mr. Ranatunga however denied the accusation stating that Interpol had cleared him and his former colleague of all charges.
Mr. Lokuge who made the harsh allegations against Mr. Ranatunga said there were many charges against the latter. "You are a bigger thief than anybody else," he told Mr. Ranatunga who was trying to raise a point of order. Mr. Ranatunga was however prevented from raising the point of order by A. H. M. Azwer who was in the chair. The House became noisy at this point with arguments between Mr. Ranatunga and Lokuge while many others joined in. Mr. Ranatunga retaliated by referring to several alleged frauds that had taken place in Sri Lanka Cricket during the tenure of Mr. Lokuge.
UPFA MP Thilanga Sumathipala, who had once been president of the Cricket Board, spoke later and alleged that Ranatunga and de Silva had earned US $ 15,000 from match fixing. He said this was found out during the investigations into the actions of former South African cricketer Hansie Cronje over similar charges. He said the former Indian cricketer Mohamed Azardeen and Pakistan cricketer Saleem Malik had also been accused of match fixing along with Ranatunga and de Silva. He said the two Sri Lankan cricketers had fixed a one day international against India in 1992.
Mr. Ranatunga who responded said Interpol had cleared the two of them of all charges. He said anyone who made allegations against them should produce documentary proof. "No member should be allowed to mislead the house in this manner," he said. Deputy Speaker Priyankara Jayaratne who was in the chair at the time assured Mr. Ranatunga that his privileges as an MP would be upheld.
Source: Daily Mirror - Sri Lanka