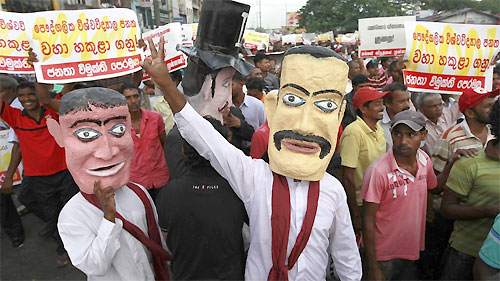 The Janatha Vimukthi Peramuna (JVP) held a protest campaign in front of the Fort Railway Station yesterday with the stated intention of replicating protests launched by millions of people that had gathered at Tahrir Square in Egypt to pressurize the government to address the needs of the nation, which they claimed was in turmoil. Hundreds of JVP members, supporters and well-wishers had begun the protest by walking from Campbell Park in Borella to the Fort Railway Station where they intend to continue the protests until their voices are heard.
"Like the people who gathered at Tahrir Square were able to influence their rulers to accede to their wishes we too will give leadership to a people's struggle," JVP General Secretary Tilvin Silva said. He charged that the country was in disarray and that there was a dire need to address the people's issues but that the government had not addressed them now nor will they address them in the future.
"The government will not address your needs. The President promised you salary increments in the past, but this has not been done. The private sector too has been ignored in the recent budget," he said.
He said that former Army Commander Sarath Fonseka too should be released along with a large number of Tamil-speaking youth who are still in prison. "The people of the country, including the farmers have been wronged.
Source: Daily Mirror - Sri Lanka