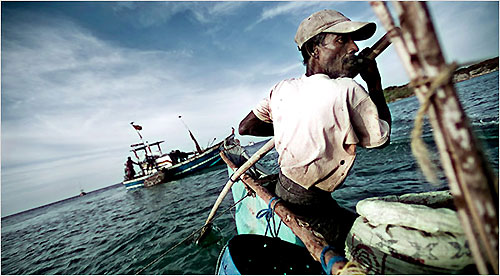 Fishermen and representatives of fishermenís organizations in the Kalpitiya area staged a demonstration at Palakudawa junction demanding immediate action to prevent the use of illegal fishing gear including purse seiner in the sea off the Kalpitiya Lagoon. They complained that the use of illegal fishing gear was going on unchecked in the Kalpitiya seas. The protestors accused the authorities failing to take legal action against individuals who were in possession of prohibited fishing gear.
The traffic on the PalaviyaKalpitiya main road came to a stand still for several hours due to the obstruction caused by burning tyres on the road. Representatives of fishermenís organizations pointed out that the use of banned fishing gear affected fishermen engaged in deep sea fishing with multi-day fishing trawlers and small-scale fishermen who engage in offshore fishing using drag nets or deep sea fishing with boats using traditional fishing gear. They said they were facing the threat of losing their livelihoods if the use of illegal fishing gear was allowed to go on.
Environmentalists who joined the protest expressed concern about the damage caused by the use of illegal fishing gear to the marine environment. Meanwhile the Minister of Fisheries, North Western Province, Sanath Nishantha who met the protestors promised to take up the issue with the relevant authorities and to bring about a permanent solution soon. He also said he would arrange adequate supervision to prevent the use of illegal fishing gear.
Depending on the ministerís promise, the fishermen called off the protest warning they would not give up their campaign against the use of illegal fishing gear until the authorities found a satisfactory solution.
Source: Daily Mirror - Sri Lanka