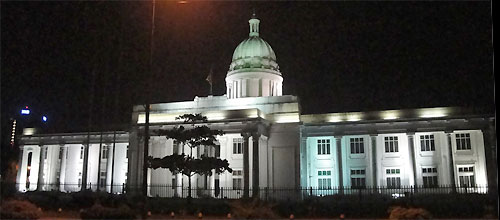 The District Court of Colombo restrained the Colombo Municipal Council from interfering with the possession of the Summer Garden Restaurant at No 86 A, Ananda Coomaraswamy Mawatha, Colombo 7 until December 23.
Colombo District Judge Ranjith Watupola issued this enjoining order on the Colombo Municipal Council considering the submissions made by Counsel Faizer Musthafa instructed by Sanath Wijewardena .
The counsel submitted that the plaintiff Summer Gardens (Private ) Limited earlier carried on business at the Nomads Grounds situated at Alexandra Place, Colombo 7 the current premises was given to the plaintiff as an alternative by the defendant as the previous place was vested in the Ministry of Cultural Affairs.
The plaintiff claimed that the current premises was rented out to the plaintiff by the defendant Colombo Municipal Council on or about August 19, 2004 for a period of one year on a tenancy agreement. Thus the plaintiff obtained electricity and water supply to the concerned premises on the plaintiff ís account.
The plaintiff claimed that the Finance Committee of the defendantís council had decided to extend the tenancy agreement for a further five year period. Consequently a tenancy agreement was signed between the parties which lapsed on August 19, 2009.
The Counsel submitted that the plaintiff was given a verbal assurance that the agreement would be renewed every five years, thus the plaintiff spent Rs 4,000,000 for the structural improvement of the premises. The plaint states that, however the defendant by letter dated November 23 had terminated the tenancy and had issued a quit notice on the plaintiff. On or about December 7 the officers of the defendant council had obstructed the main entrance to the plaintiff ís premises seriously hampering the business of the plaintiff.
The plaintiff had stated that the defendant had wrongfully and unlawfully obstructed the access to his premises. The plaintiff had prayed for an interim injunction restraining the defendants from interfering with the plaintiff ís business premises unless an irreparable loss and damage would be caused to the plaintiff.
Source: Daily Mirror - Sri Lanka