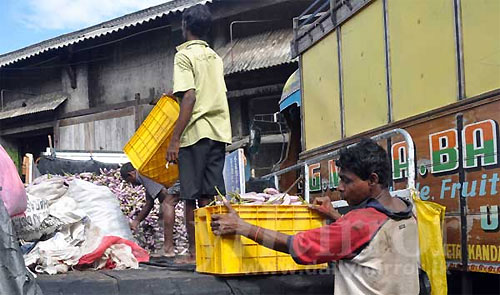 The UNP and JVP in Parliament, yesterday, criticised the government's new rule that vegetables and fruits must be transported in plastic crates, and said it would hurt both consumers and traders. The UNP said this rule would cause the prices of vegetables to rise and place more burdens on farmers and consumers.
UNP Media Spokesman Gayantha Karunaratne said that despite the government's assurance that it would reach its economic objectives in the 2012 budget, there was another impending increase in the price of essential items including vegetables.
Mr. Karunaratne said the Ministry of Cooperatives and Internal Trade had failed to find a satisfactory method of transporting vegetables without burdening the people. He said the cost of a crate was Rs.1200 and transportation costs had doubled from Rs. 1000 to Rs. 2000 and added to the burdens of the farmers.
He said, farmers could formerly transport 1000 kilos in gunny bags. But with the new plastic crate system they could only transport half that amount. He said some 40 lorries carrying vegetables in gunny bags had been detained recently. Fines varying from Rs.1000 to Rs. 100,000 would be imposed on those who do not abide by the new policy and this would devastate the agricultural sector, he said.
Source: Daily Mirror - Sri Lanka