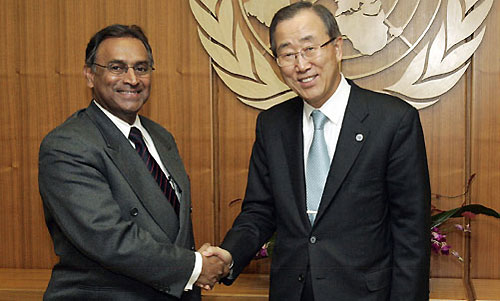 Top retired diplomat Dr. Jayantha Dhanapala said that political stability and miraculous economic development would not result over the achievement of a military victory over the ruthless terrorism of the LTTE. "The victory should be consolidated through political solutions, genuine reconciliation, an investment friendly environment and state reform," he said.
Dr. Dhanapala said that good governance was not rushing the secretly drafted legislation through the Supreme Court as being in the national interest and ramming it through Parliament with a steamroller majority.
"The seeds of discontent sowed now will eventually germinate as political protest," added Dr. Dhanapala, speaking at an event to mark the annual UN Anti-corruption Day organized by the Transparency International Sri Lanka (TISL).
"The levels of integrity in Sri Lanka must improve on all pillars and civil society organizations are no exception," said Dr. Dhanapala reflecting his thoughts on the 'National Integrity Assessment- 2010 Sri Lanka'.
He said fulfilment of civic responsibilities could also be lead to preventing abuse of governance in addition to combating corruption and malpractice. "2011 has witnessed dramatic change in the world that cannot leave Sri Lanka untouched; there is widespread evidence from the Arab Spring to Anna Hazare in India to the 'Occupy Wall Street' movement in the USA and elsewhere, that the civic responsibilities of people are now being exercised more and more aggressively," he said.
He said the institutions of democracy such as an independent judiciary; a free press ; the rule of law; A Right to Information Act; the unfettered practice of human rights and freedoms, need to be revitalized.
Expressing his view on the forecast predicted for Asia by the latest Asian Development Bank publication, "Asia 2050," he said prosperity for Asia including Sri Lanka was not assured though the centre of global political and economic power was moving inexorably towards Asia. Late justice Mark Fernando was posthumously awarded 'The Award of Excellence' in recognition of his fine qualities of integrity, independence, fair play and equality and commitment to justice by the TISL.
The "Sri Lanka Governance Report 2010' was launched during the event.
Source: Daily Mirror - Sri Lanka