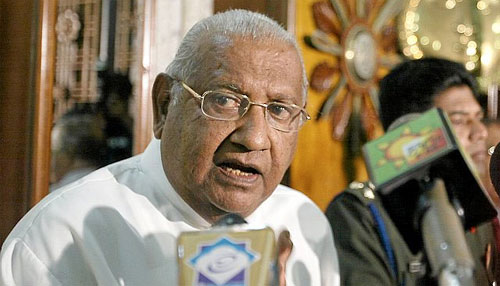 The COPE report must be taken seriously as its revelations on Ministry Secretaries could lead to the collapse of the administration in the public sector, senior Minister Ratnasiri Wickramanayake warned yesterday.
Speaking during the committee stage debate in the House, Mr. Wickramanayake, who is a former Prime Minister, said the COPE revelations that Ministry Secretaries do not properly carry out their duties is a serious matter.
He explained that secretaries are responsible for the administration of ministries as ministers only make policy decisions. He stressed the need for a system where a public servant could converse in any language spoken in Sri Lanka. Mr. Wickramanayake made this point in repose to a comment by Minister of Public Administration that public servants are duty bound to work in any given area in the country. "They should be trained to converse in any language widely spoken in the particular area they work in, and making them duty bound to work anywhere in the country alone is not enough," he said.
Mr. Wickramanayake said the Grama Nildaries should also be made more competent and should be deployed according to a planned process.
Source: Daily Mirror - Sri Lanka