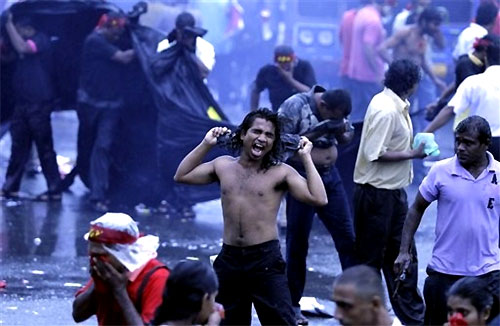 Following a large protest involving thousands of university students from several universities in the country on Wednesday, the Higher Education Ministry on Thursday warned that it would not have discussions with university unions on their grievances in future, if they continue to stage public protests.
A large number of students from the Sri Jayawardenapura University as well as members of the Inter University Student Federation (IUSF) from Kelaniya, Colombo, Ruhuna and other areas of the country came together opposite the University Grants Commission, and staged a protest urging the authorities to remove the Vice Chancellor of the Sri Jayawardenapura University whom they accused of abuse of power and being corrupt to boot.
Ministry Secretary Dr Sunil Jayantha Navaratne said that the ministry will address this issue and give the students a date to meet with ministry officials to discuss the issue. However, Higher Education Minister S.B Dissanayake had decided the ministry will not tolerate public protests any longer, he said. "If students want us to address their concerns they may write to us or call us to inform us about their grievances. However the minister is of the view that those who hold public protests in future will not be entertained by the government," Dr. Navaratne said.
He said that the incident where a Peradeniya student was ragged by fellow students was being investigated but that it could not be resolved easily as students deny their involvement in ragging. "They do not come forward which makes it difficult to resolve the root cause of the issue," he said, pointing out that ragging had reduced in the past few years.
Source: Daily Mirror - Sri Lanka