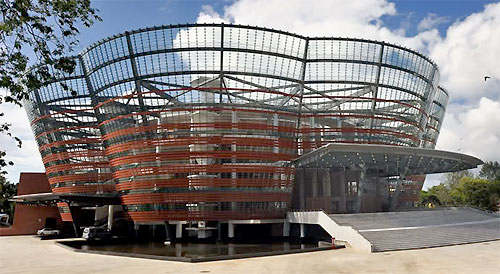 The recently completed Performing Arts Theatre is to be ceremonially declared open by the President on December the 15th highlighting a gesture of great generosity by the Chinese Government, whose construction spanned only several years. The structure is spectacular as it is large and rightly situated in the most cultural location Colombo can offer, Ananda Coomaraswamy Mawatha, surrounded by the University of Performing Arts, the John de Silva Theatre and the National Art Gallery.
The writer had the opportunity to visit the premises earlier this month and was fortunate to see a dance group in the midst of rehearsals prior to the opening. The main theatre will be the largest in the country with a seating capacity of more than 1300 with plush and comfortable folding chairs. Yet it seemed to this writer that amongst others, scale was an aspect to which too little local attention had been given. Whilst the stage was better suited to a scale perhaps more suited to a Chinese State Opera performance with a large cast, it seems to be too large to effectively perform plays produced in this country where proximity, almost an intimacy between performers and the audience is important. Whilst the main hall is visually stunning with state of the art audio visual technology and gadgetry at every conceivable instance, the seating arrangements were such that nearly 300 of the audience would have difficulty in seeing the stage. Finally the writer observed the lack of rehearsing space in the complex, limiting the use of the building for more than one concurrent production. The open air theatre on the top of the building may be used for rehearsing purposes only if some modifications are made to provide necessary facilities.
As mentioned earlier, sadly it appeared that there has been too little local professional input in the design and conceiving of this facility which otherwise could have incorporated facilities that would have elevated this from being simply a theatre to an arts centre with a broader scope. Although a gift from China to Sri Lanka and hence not costing us a cent to build, the operating and maintenance cost of this huge structure is more than Rs 6 million a month so that the writer was informed that hiring charges per performance will be in excess of Rs 300,000. This is not affordable for most drama producers in this country and is likely to restrict its use only for mega events with eg, Bollywood icons and ageing pop stars with corporate or government sponsorship.
The current theatre landscape of the country is marked with several forms of ritual theatre, folk theatre and a trilingual modern (or sometimes with post-modern elements) theatre making it a source for theatre researchers worldwide. Sinhala music has also been able to create a new tradition using the main music traditions of North and South India (and to a certain extent the indigenous folk tradition) during a spell of several decades while the Tamil theatre has used and transformed South Indian art form with local traditions. Similarly our cinema though it was decisively influenced by and indeed had its provenance in South Indian cinema, developed in a short time to produce a uniquely Sri Lankan style that has set its mark internationally, with many gifted directors creating films of lasting repute.
Under these circumstances it would not be unnatural for Sri Lankan performing artists, producers and directors to hope that this magnificent edifice would become not just a theatre with modern facilities but a fullyfledged Performing Arts Centre enabling them to experiment and showcase all genres of performing arts to an audience that goes beyond our shores. Indeed it would not be too ambitious to envision the establishment of a South Asian performing arts centre in Colombo in view of the heterogeneous multi-cultural society in Sri Lanka and the excellent relations with its South Aisan neighbours. A fullyfledged performing arts centre should have a) one or two large theatres b) mini theatres to be used for rehearsals c) an audio visual auditorium d) a library covering all available media ranging from books to the most modern digital storage methods of all genres of performing arts, cinema, drama especially of old films, theatre performances etc both local and foreign for research and reference. This should be developed as a film and theatre archive too.
Whilst it would seem churlish and ungracious to look a gift horse in the mouth, from the foregoing the arguments for transforming this complex into a performing arts centre cannot be exaggerated. This is a national treasure and must be put to the best use possible. It should attract the best performers, dramatists, producers in Sri Lanka and the region first and then beyond and a thriving and creative hub of excellence and activity. One would also question the prudence of assigning the responsibility of such a facility to the armed forces, who granted have the funds and skills for building maintenance, but do not have the training for turning a building into a dynamic and vibrant cultural hub.
There is no doubt that there is a strong political will and vision to establish such a centre. Let us not lose this opportunity to make this transformation. Last not but least lest this edifice follows the tradition of recent masterpieces like the 'Birdcage' the writer proposes this centre is named the Ananda Coomaraswamy Performing Arts Centre honouring the great Sri Lankan who opened up the cultures of Sri Lanka and Asia to the world at large and who had contributed greatly to conserving the cultural heritage of this country.
Source: Daily Mirror - Sri Lanka