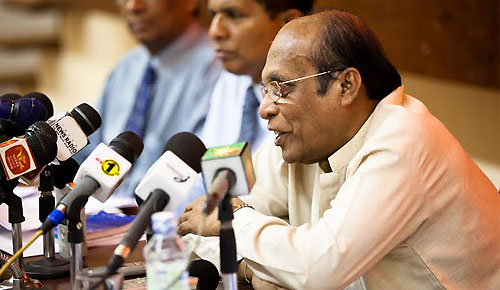 Amid allegations that the politicization of crime and the criminalization of politics in recent years had led to lawlessness if not anarchy in Sri Lanka, we are now being saddled with another crisis of the politicization of corruption and the corruption of politics. So much so that not only cynics but also independent analysts are also regularly quoting the famous story about Socrates with a lamp looking even under a bed to find an honest man or woman especially among the leadership.
Some years ago the widely respected Parliamentary Committee On Public Enterprises (COPE) at that time headed by the outspoken Wijeyadasa Rajapakshe issued a shocking report saying there was widespread evidence of large scale corruption, bribery and waste in public enterprises. Little or no action was taken on that report, and Mr. Rajapakshe was more or less compelled to crossover while attention was focussed last month on a relatively less important Bill regarding the so called Revival of Underperforming Enterprises and Underutilised Assets. With the government virtually ignoring that COPE report it was like a blank cheque for crooks or plunderers of public resources to go ahead with their corruption or bribery knowing that eventually they could influence or bribe some politician and get away with their wrongdoing.
Last Thursday the newly appointed COPE now led by Senior Minister D.E.W. Gunasekera – widely regarded as one of the few politicians not tainted by allegations of corruption and deception issued an even more shocking report about corruption, bribery and waste of fast-dwindling public funds in 40 of the 229 State Enterprises probed by the all-party committee. The Chairman said the powers of COPE should be enhanced to enable it to summon former heads of state-run institutions as well as bring under its purview private limited companies incorporated under the Companies Act. The senior minister said during COPE investigations it identified several instances where enterprises such as Maga Neguma companies and subsidiaries of the Ceylon Electricity Board (CEB) needed to be summoned but this could not be done due to the Committee's mandate limiting it to institutions audited by the Auditor General. He recommended the amendment of laws to enable COPE to summon such companies and allow for scrutiny of their finances.
In the latest 176-page report, COPE had investigated the work of 229 institutions and 40 of them were listed as huge loss-making burdens on Sri Lanka's fragile economy. The 40 loss-making institutions included Ceylon Petroleum Corporation, Samurdhi Authority of Sri Lanka, Srilankan airlines, Mihin Air, Ceylon Shipping Corporation, the Ports Authority and the Sri Lanka Transport Board. For instance the widely criticised Mihin Air, which is continuing to build castles in the sky has accumulated losses of more than Rs.6,000 millions which is more than the total amount allocated for vital subsidiaries in the 2012 budget.
If COPE itself is not to be made a waste of precious time and money then the government must now take immediate, effective and stern action against those found responsible for public funds and try to salvage Sri Lanka from the pigsty rating it has got from transparency international on countries where corruption is widespread and largely unchecked.
Source: Daily Mirror - Sri Lanka