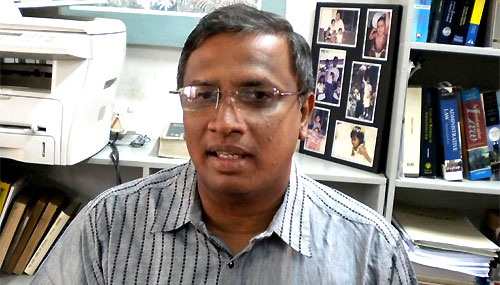 The Tamil National Alliance (TNA) yesterday stated that it would be futile to nominate representatives to the proposed Parliamentary Select Committee (PSC) on the national question until a "substantial agreement" is reached with the government.
TNA parliamentarian and lawyer M. A. Sumanthiran said that it was "not fair and not right" for the government to impose "new conditions" by taking up the position that bilateral talks cannot progress unless the TNA names its representatives to the PSC.
Asked whether the TNA was not willing to compromise Sumanthiran said, "We have already taken the middle-path by not opposing the PSC. At our meeting on September 16, it was agreed that a consensus arrived at between the government and the TNA will form the basis of the PSC. We are now simply asking the government to honour this agreement which was recorded in the minutes of that meeting."
"Prof. G. L. Peiris, at our last meeting on December 1, refused to talk on the basis that we must first send the names for the PSC but this new condition is contrary to the agreement we reached in September," he said.
Sumanthiran clarified that the TNA was not refusing to participate in the PSC but that it was essential for an agreement to be reached with the government first if the PSC is to be a meaningful exercise. While reiterating his party's commitment to the bilateral discussions, Sumanthiran maintained that the TNA would not delay nominating its representatives to the PSC if and when the contours of a political solution was agreed upon by both parties.
Sumanthiran also dismissed rumours that the TNA had plans to seek external mediation. "We remain committed to the process and we will give it everything. The delay and dragging has been entirely on the part of the government and not us," he said.
The PSC received parliamentary approval last month but the constitution of the PSC has been delayed because of the TNA'S refusal to name its representatives.
The next meeting between the government and TNA will be held today at 4.00 pm.
Source: Daily Mirror - Sri Lanka