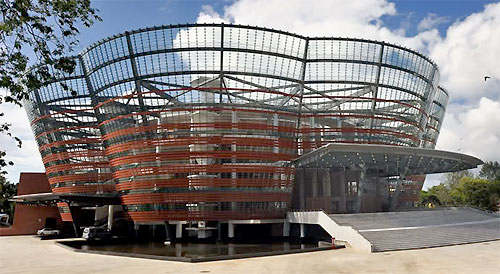 The newly built performing arts theater on Green Path would also come directly under the purview of President Mahinda Rajapaksa, Leader of the House Nimal Siripala De Silva informed Parliament yesterday.
It would be the latest addition to the 22 institutions which come directly under the President, according to a list read out in Parliament by Minister de Silva.
Minister de Silva who was speaking during the committee stage debate on the budget dealing with the budgetary allocations coming under the Presidential expenditure heads, said a greater percentage of funds allocated for the President were being spent on the administration of these institutions and not for the Presidentís personal expenses. He explained that a large amount of funds had been spent on giving medical assistance for the public under the Presidentís Fund. He said assistance of Rs 258 million had been given for kidney transplants while assistance had been given to 3309 heart patients for surgeries in 2011. In addition he said the assistance had been given in the form of scholarships.
Referring to some charges made by UNP Deputy Leader Karu Jayasuriya with regard to the conduct of elections, the Leader of the House said, the government would start the electoral reforms from the local government level. However, he said it would be a time consuming one as there are some issues with regard to the de-limitation committee. He assured that the reforms would be made in time for the next local government election.
Source: Daily Mirror - Sri Lanka