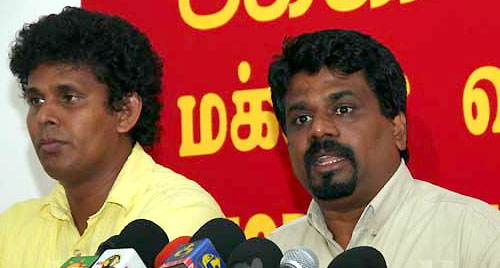 Government had made this year's budget a mess by contradicting its own facts and figures, DNA Parliamentary group leader Anura Kumara Dissanayake charged in Parliament yesterday.
Speaking during the debate on the second reading of the budget in the House Mr. Dissanayake recalled that the poverty level has been 7.6 percent in 2010 according to the facts put out by the government during the budget last year but according to the figures put out this year it had reduced to 8.9 percent from 15.6 percent the previous year. He said that food prices had increased by 10.6 percent as at September this year according to finance ministry report though it was mentioned in the budget speech that the government had been able to maintain food prices at 3 percent.
Mr. Dissanayake said the claim made by the government that the unemployment level had reduced is also false as it had only reduced when considering the figures of employees in the private sector. He said this is clearly visible when one compares the number that has been registered with the EPF. He said the total number of workers that had been registered with the EPF had reduced to 2.1 million in 2011 compared to 2.4 million in 2006.
He therefore said there were 400,000 unemployed youth in the country today. The DNA MP, who charged that the government had completely neglected the housing needs of the war affected people in the North, said that only 5735 houses have been built in the Jaffna District although 32, 286 houses were completely destroyed during the war. In Mullaitivu he said only 1682 were built though 14,524 houses have been destroyed.
Source: Daily Mirror - Sri Lanka