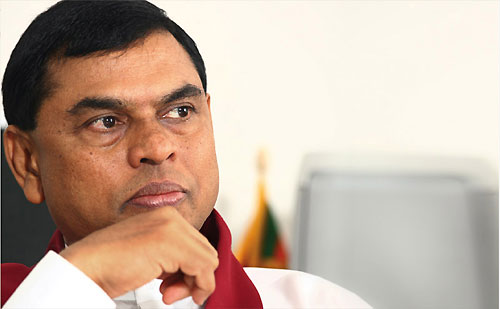 The policies followed in this country cannot be found anywhere else and is unique to Sri Lanka, Minister Basil Rajapaksa told Parliament yesterday. Closing the debate on the second reading of the budget in the House, the Minister of Economic Development said that our policies cannot be replaced with another. "It is a policy that will benefit our people and is not based on Washington policies," he said.
He said the country had achieved steady progress in several sectors including health and education during the past year by following these policies. Giving examples, he said that the health sector had improved steadily as there were now 14,005 doctors in the country when compared to 9070 in 2005 while the number of hospital beds had also increased to 69,500 in 2010 from 61,937 in 2005.
Referring to the education sector he said there were 26,458 teachers in the education sector today when compared to 19,034 that were teaching in 2005.
Minister Rajapaksa stated that the government would focus more on the North in the coming year saying that the next big water supply project after Colombo would be set up next year in the North. He said drinking water would be provided to people in both Killinochchi and Jaffna through this project. "We will be able to give water to many more households in the north in addition to the 15,000 new connections that have already been given elsewhere during this year. In addition he said a similar result had been achieved in the power sector as well with 47,307 new power connections being given during the year.
The Minister, who was responding to the criticisms by the opposition about the high defence budget, said that an emphasis on Defence had become the norm today globally.
Source: Daily Mirror - Sri Lanka