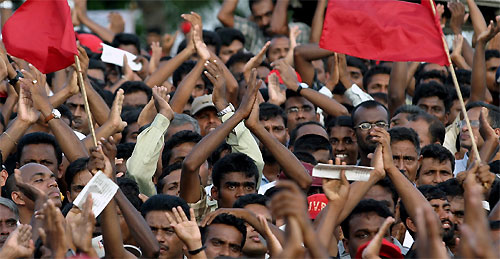 Despite the LTTE defeat in May 2009 and victory after victory in subsequent elections for the UPFA government, Sri Lanka's democracy rating has dropped to dangerously low levels and immediate action needs to be taken to correct this image or do some damage control.
According to the main opposition United National Party (UNP) spokesman Mangala Samaraweera, Sri Lanka's ranking in the world democracy audit has dropped to a disgraceful 109 among the world's 193 countries. Sri Lanka is ranked even below countries like Bosnia, Malavi, the republic of Congo and Uganda. Mr. Samaraweera told parliament that even countries like Ruwanda where more than one million people were killed in the bloodiest ethnic riots of recent times, had made significant progress towards democracy with economic development. According to the United Nations (UN) Sri Lanka ranks highest in South Asia where human development is concerned, but the sad feature is that social inequalities appear to be growing and we may soon have two societies in this country – a wealthy elite comprising about 10 per cent of the population and another society comprising middle class wage earners who struggle for existence and the poorest of the poor who survive on less than Rs.200 a day. Building super expressways and having formula-1 floodlit motor races in the city centre for Aston Martins and other luxury cars will not help in bridging the gap between the rich and the poor and brining about a more equitable distribution of wealth and resources.
The government needs to act fast and effectively in restoring democratic structures and values while also acting urgently and courageously to find an effective political solution to the ethnic conflict. Along with these we also need to see practical steps to adjust the structural injustices which make the rich richer and the poor poorer.
One of the important steps to improve Sri Lanka's International image and avert popular uprisings similar to those we are seeing in the Middle East would be a review of the 18th Amendment and a restoration of the 17th Amendment. This would go a long way in restoring the democratic process of consultation, consensus and compromise through checks and balances.
We would then also see more accountability, transparency and good governance with the restoration of an Independent Election Commission, an Independent Police Commission, an Independent Public Services Commission and an Independent Judicial Services Commission.
As important as all these would be the restoration of a free and independent media with the removal of direct or indirect pressure and threats by political goons or thugs.
As we enter December tomorrow political leaders and the people also need to take another step in bringing about a just and fair society with lasting peace. This is the traditional time of spending sprees and expensive festivities to celebrate the birth of the Lord Jesus Christ in a cattle shed. We need to meditate on the need for a transformation and a turnaround to a simple and humble lifestyle or alpechchathavaya whereby we learn to manage with our basic needs, save more and share more. Otherwise as a young UNP parliamentarian said on Monday, Sri Lanka is not likely to be a miracle state but it might take a miracle to save the country from drowning in a sea of deaths.
Source: Daily Mirror - Sri Lanka