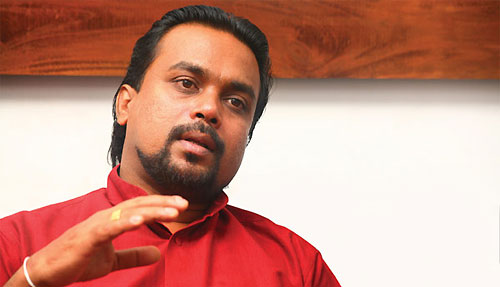 A group of members of the opposition created a commotion and attempted to disrupt the budget reading in parliament on Monday were aimed to impress certain diplomats of the West, Construction, Engineering Services, Housing and Public Utilities Minister Wimal Weerawansa said.
Addressing a function held to mark the launching of the 'Nugasevana' housing scheme at Dehiowita, Kanankegama in Dehiowita in the Kegalle District under the Janasevana programme of the NHDA, Minister Weerawansa said opposition leader Ranil Wickremesinghe's intention in Parliament on budget day was to show his skills to diplomats of the Western countries.
President Rajapaksa has presented a 'People's Budget' the opposition tried to disrupt the proceedings in Parliament. Their modus operandi was to disrupt the proceedings in Parliament and force the Speaker to adjourn the house, if succeeded would have been a first in Sri Lanka's parliamentary history.
Normally opposition protests in Parliament to display their disapproval to an Act or a proposal. But the opposition on Monday attempted to disrupt Parliamentary proceedings even before President Rajapaksa completed his budget speech which shows there was some sinister move behind, Minister Weerawansa stressed.
One poster held by the opposition on the floor said 'Shame'.
Shame for what? Was the shame for increasing salaries of public servants, distributing lands earlier belonged to foreign companies among poor and landless or giving Rs. 3,000 a month to family with a disabled child, Minister Weerawansa asked.
He said the government has allocated a Rs. 500 billion for the capital expenditure from the budget 2012 while providing a range of reliefs to the public and low income families.
An additional Rs. 500 million had been set aside to provide housing facilities to under-privileged families in 2012, he said.
The 'Nugasevana' Housing Scheme implemented by the NHDA under the one million housing project comprises 71 units and expected to be completed in four months.
Source: Daily Mirror - Sri Lanka