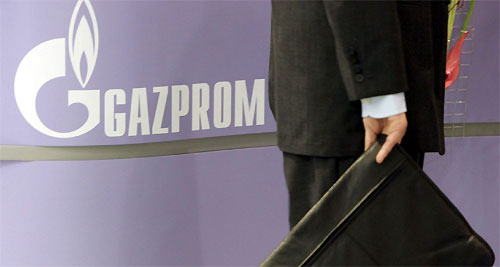 Russia's oil and natural gas giant Gazprom which is one of the biggest companies in the world engaged in the industry is expected to introduce Liquid Natural Gas (LNG) to Sri Lanka and improve the refinery facilities in the country.
External Affairs Minister G.L. Peiris had expressed satisfaction over the progress which had been achieved with regard to collaborative arrangements with Gazprom, the Russian gas company which is a world leader in the field.
"Gazprom, whose representatives were in Colombo recently, is expected to make a significant contribution to the economic development of Sri Lanka in several sectors including the supply of liquid natural gas and the improvement of refinery facilities in the country," he said at a ceremony to lay the foundation stone for the new Russian Embassy building at Bauddhaloka Mawatha. Prof. Peiris mentioned the recent visit to Moscow by Petroleum Industries Minister Susil Premajayantha with regard to negotiations with Gazprom.
"Sri Lanka enjoys a supportive and satisfying relationship with the Russian Federation, and appreciates the consistent understanding which Moscow has shown during the conflict and in respect of the current initiatives regarding development and reconciliation after the eradication of terrorism," Minister Peiris said.
He said the time had come to expand and deepen the relationship, particularly by developing its economic content.
The minister referred to President Mahinda Rajapaksa's recent visit to St. Petersburg where he participated at the Economic Forum and had discussions with President Dmitri Medvedev and Foreign Minister Sergey Lavrov.
Russian Ambassador in Sri Lanka Vladimir Mikhaylov said the land purchased in Colombo by his government 25 years ago, is now being utilized for the construction of a self-contained building complex including the chancery, residence, sports and education facilities for Embassy staff.
Ministers G.L. Peiris, Susil Premajayantha and Githanjana Gunawardena were shown a plan of the elegant building which is to be completed within two years.
Russian Federation's External Affairs Ministry Director General Mikhail Vanin was in Colombo to participate in the ceremony, a special feature of which was the presence of a Russian Orthodox Church priest who blessed the foundation stone.
Source: Daily Mirror - Sri Lanka