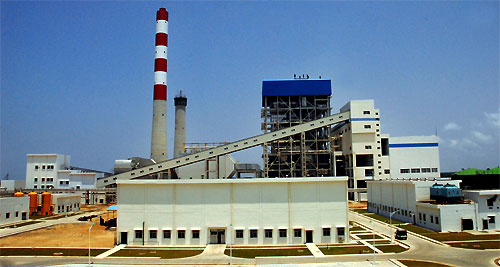 Dismissing speculations to the affect that the Lakvijaya Coal Power Plant (LCPP) located in Puttalam was up for sale, Power and Energy Minister Patali Champika Ranawaka yesterday stressed that the plant was not for sale.
Minister Ranawaka visited the plant and spoke to its employees assuring them that their jobs were safe and that the power plant would not be sold to a private company. At a discussion with officials of the Lakvijaya Plant Ranawaka pointed out that it was the responsibility of all employees to run the plant efficiently and with the utmost care as any mishap that occurs there would disrupt power generation to the entire country. He emphasized that he was ready to assist them in any way he could.
"Plans are underway to complete the second phase of the plant that will add 300 megawatts to the national grid before the end of first quarter of 2013 and the third and last phase that will add a further 300 megawatts to the national grid would also be completed before the end of May 2014," Minister Ranawaka said. "This is an opportunity to show that our engineers and technicians are ready to face any challenge. Therefore, it is extremely important that you, our engineers, help the Chinese engineers as much as possible so that the work could be finished on time," he added
Minister Ranawaka thanked the staff at the plant for their dedicated service and the assistance given to the CEB to provide uninterrupted power supply to the country at a time the when most of the reservoirs that feed hydro power plants were half dry and hydro power generation was low. He said the government would continue the tariff relief package for another year for consumers who use less than 120 units a month. However, it is up to the consumers to keep their electricity bills low by using it sparingly, he stated.
Source: Daily Mirror - Sri Lanka