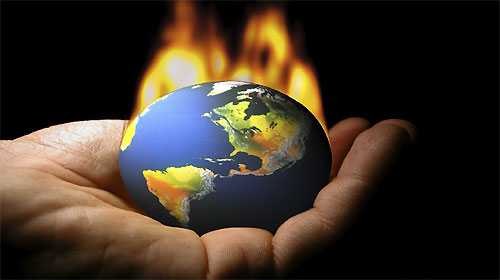 After the unprecedented violence in parliament on Budget Day, the debate rages on the plusses and minuses with government leaders claiming it is a development-oriented budget with a hundred proposals including several for local production and export. But independent economists and opposition leaders say there will be little or no immediate relief for the millions of suffering people while the devaluation of the rupee – with the dollar rate going up from Rs.111 to Rs.114.50 on Wednesday – is likely to send the cost of living soaring.
Whatever happens or does not happen, we cannot forget that the gravest crisis Sri Lanka and all other countries are facing is the climate crisis and now, even the danger of climate wars because clean water resources are running out and the super powers, which earlier went to war for energy resources might now go to war to take control of the remaining clean water resources.
An environmentalist in a book titled 'Climate Crisis and War' has warned that the worst direct impacts to humans from our unchecked use of energy over the next few decades will lead to 'Dust-bowlification' and extreme weather and food insecurity - or 'Hell and High Water'.
But all of the impacts occurring simultaneously will have an even more devastating synergy. It means the rich countries will be far less likely to be offering much assistance to the poorer ones, since there will be ever worsening catastrophes everywhere simultaneously so we'll all be suffering at the same time.
According to the author this deep economic downturn and record-smashing disaster season has already exacerbated media myopia and compassion fatigue to help those countries staggered by floods and droughts that suggest another deadly climate impact — far more difficult to project quantitatively because there is no paleoclimate analog — may well affect far more people both directly and indirectly: war, conflict, competition for arable and/or habitable land.
The writer says we will have to work as hard as possible to make sure we don't leave a world of wars to our children. That means avoiding decades if not centuries of strife and conflict from catastrophic climate change. That also means finally ending our addiction to oil, a source — if not the source — of two of our biggest recent wars.
Facing such a catastrophe, Sri Lanka needs to take urgent and effective steps regarding climate change and possible attempts to grab our fresh water. In recent years there had been subtle attempts by international agencies to get involved and gradually take control of our rivers and fresh water resources. These moves need to be exposed and stopped. In addition, the government should give priority to the restoration of thousands of wevas – marvels of ancient engineering to preserve rain water. People on their part need to reflect on their need to get involved in undiluted patriotism by stopping the waste of fresh water and instead saving more water while the government could give incentives to other methods like rain water harvesting in households so that some day King Parakramabahu's wish will come true – that not a drop of fresh water shall go unused into the sea.
Source: Daily Mirror - Sri Lanka