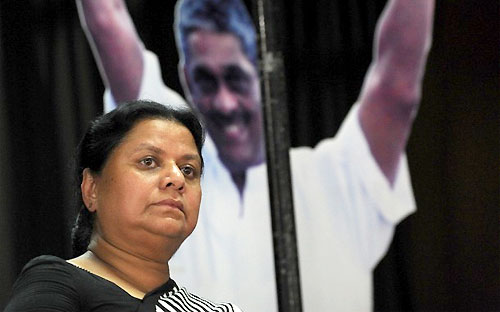 The wife of former Army Commander, Anoma Fonseka, yesterday called on the people to join her, in her efforts to release her husband who was recently sentenced to three years in jail in the controversial white flag case.
Mrs. Fonseka said she needed the support of the masses to move forward in her efforts to release her husband from imprisonment. "We have to hope for the best and not let things get us down when we face difficult times. But no one can tell what will happen in the future and cannot depend on prayers, which is why we have to go forward with your support."
Mrs. Fonseka was addressing a large gathering of supporters in Colombo yesterday which was organised by the People's Movement to Free General Sarath Fonseka.
The gathering also included senior members of a number of political parties, clergy and civil groups. Mrs. Fonseka called on all women to support her in her endeavours to release her husband from jail.
"People had hoped that when the last court hearing was held on the President's birthday that a favourable decision would be given, but we were wrong. On the day of the hearing, like a cow that was to be taken to a slaughter house, General Fonseka was dragged away. Anyone with a heart would have felt a lot of heartache at the sight of him on that day," Ven. Maduluwawe Sobitha Thera said addressing the gathering.
Ven. Thera said Fonseka was hand picked as Army Commander by President Mahinda Rajapaksa and Defence Secretary Gotabhaya Rajapaksa because of his talent and capabilities and was called the best war hero in the world by the President himself. "They took away his pension, his title and his house. He gave us a country where we could live without fear or suspicion and they have put him in a cell," Ven. Sobitha Thera said.
Source: Daily Mirror - Sri Lanka