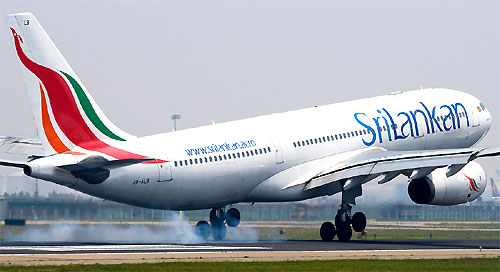 Mihin Air is to go for code-sharing with Sri Lankan Airlines, senior minister Sarath Amunugama told Parliament yesterday.
Dr. Amunugama who was speaking at the debate on the second reading of the budget in the House said there is nothing wrong in Mihin Air and Sri Lankan Airlines sharing the destinations between them as it is a practice carried out by many other airlines today.
With regard to the repeated charges on the performance of Mihin Air, the senior Minister said it had incurred losses as the funds pumped into it by the state had been inadequate. He said the company had been compelled to seek loans from the Banks as the funds allocated for it by the government had not been sufficient. Minister said the situation with regard to Air Lanka was same during the late J. R. Jayewardene regime as adequate investments were not made by the state during that time as well.
"The Airline is functioning smoothly other than this issue," he said. Therefore the Minister said several flights operate daily carrying lower middle class people to destinations such as India.
Minister of Education Bandula Gunawardene who also joined in the budget countered the main Opposition UNP'S arguments on the 3 per cent devaluation of the rupee, by stating that the rupee was devalued by 100 per cent soon after the UNP came into power in 1977. He said the US Dollar which cost Rs 8 at that time cost Rs 16 after the devaluation at that time.
He said the government had focused on a broad development plan taking into consideration even the home garden systems. Mr. Gunawardene said developing home garden systems could also make a considerable contribution to the national economy.
Source: Daily Mirror - Sri Lanka