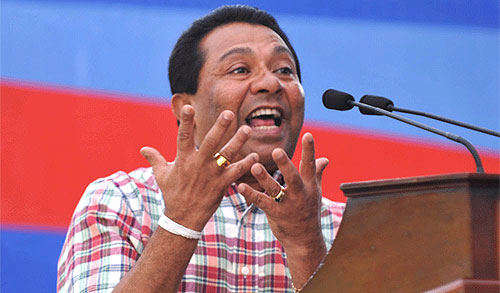 The authorities of the Eastern University's Trincomalee Campus had failed to use as much as Rs.179 million of the money allocated for development work, said Higher Education Minister S. B. Dissanayake.
Higher Education Minister S. B.dissanayake was planting a tree on the occasion of the Presidents 66th birthday He made these remarks at a function to mark the "Tree Planting Campaign" to mark President Mahinda Rajapaksa's birthday.
He said there was a delay in the construction work at the Trincomalee Campus as well and elsewhere in the Eastern University. However, he said, it was difficulty to blame anyone directly.
"However both the Dean of the Trincomalee Campus and the Vice Chancellor of the Eastern University should be held responsible," he said.
Construction work at the Eastern University had also not been completed yet. However seven or eight constructions jobs are underway.
Although Rs. 5 million had been allocated for purchasing books for the Trincomalee Campus Library, no books had been purchased, he said. The students dream is to vest the Eastern Provincial Council Building in the Trincomalee Campus. We have discussed this matter with the Chief Minister. The President's attention was also drawn. I hope in the long run enough facilities will be obtained for this Campus, he said.
Source: Daily Mirror - Sri Lanka