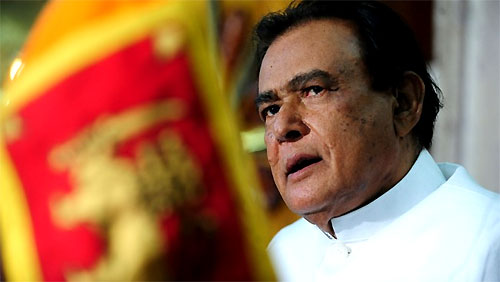 Prime Minister D.M. Jayaratne said unscrupulous politicians caused extensive damage to the country by creating communal disharmony to gain cheap political mileage and they must understand the consequences of their shortsighted acts.
Addressing a public meeting at the Weerasingham Hall in Jaffna to make donations to develop the Hindu temples in Jaffna and Kilinochchi, he pointed out that communal harmony was a pre-requisite of the development process.
He further said "All communities must live in peace and harmony on the country's soil. The need for communal harmony is felt more than ever now. All religions guide us along the right path to achieve this target.
"The Tamil community in the south has joined hands with their Sinhala counterpart to build the country and I find no reason that prevents the Tamil community in the North and East from doing so. However, they have been misguided by political parties with a communal origin behind them.
"Such political parties are motivated by gaining cheap political mileage by arousing communal feelings regardless of its danger. President Mahinda Rajapaksa has set an example by introducing a new political culture. "He has taken several steps to protect the rights of all communities without any discrimination. It is a matter of concern that many other political parties have failed to adapt a similar policy."
Minister Douglas Devenanda, Governor, Northern Province G.A. Chandrasiri and several religious dignitaries were present at the occasion.
Source: Daily Mirror - Sri Lanka