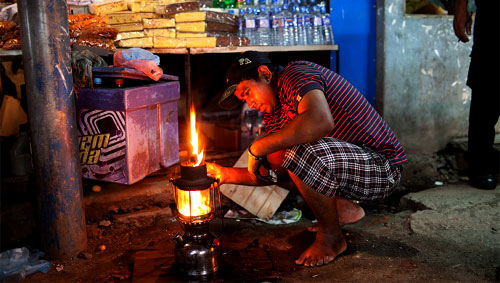 Sri Lanka could be fully electrified before the target date of end 2012 as power supply projects in almost all districts have met their targets before schedule, Power and Energy Minister Patali Champika Ranawaka said yesterday.
Addressing the Ministry's progress review meeting in the Trincomalee district, Minister Ranawaka said 76 percent of households in the district have been given electricity under the 'Reawakening of the East' programme. The prgramme covers the Trincomalee, Ampara and Batticaloa districts.
It will not be difficult to provide 100 percent electricity to the Trincomalee district in the next few months, and only 20 transformers and 1,332 extensions are needed to complete the job, he said. Minister Ranawaka instructed officials to give priority to small and domestic industries and self employment projects when new connections are given. He also told officials not to delay electricity supply to schools.
Officials pointed out that 3,271 families under 29 rural electricity supply programmes have got connections in the last two years at a cost of Rs. 321 million. The number of extensions is 1332. The progress review meeting was also attended by Buddhsasana Deputy Minister M.K.A.D.S Gunawardana and officials representing all state institutions of the Trincomalee District.
Source: Daily Mirror - Sri Lanka