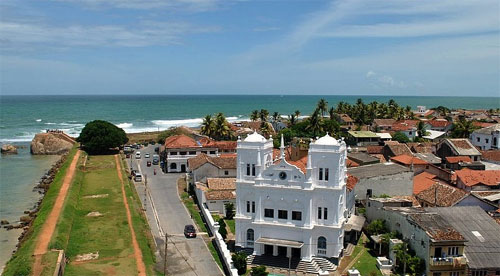 The residents and businessmen of the Galle Fort vehemently opposed the decision of Galle Heritage Foundation to levy a fee from foreigners visiting the historical Galle Fort which is also a world heritage site.
Traders inside Galle Fort say that this may result in reduction of the number of foreigners coming to the Fort and in return losses in their trades.
A protester M. S .A. Chandrasiri said he was a chairman of the Gall Heritage in 1994. It was not reasonable to charge a fee from foreigners. Opportunities should be provided for them to watch the Galle Fort without a fee. There are many residents in the Fort and their business would also be affected if a situation where the number of foreigners coming to the Fort declined. A owner of a jewellery shop in the Fort, Mangala Karunanayaka also shared the same view and said that majority of their customers are foreigners.
The owner of a private Dutch Museum located within the Fort, Abdul Gaffer Kamal Hussein expressed his view. He was a resident businessman in the Fort for the past 40 years. Gems, Jewellery and Laces are the main trade items. The main buyers of these articles are foreigners and a drop in their visit would badly affect the people engaged in this trade. He also said that Galle Heritage Foundation has no right to levy charges since it is not represented by any resident of the Fort.
Explaining their position about the present situation, the Chairman of the Galle Heritage Foundation Parakrama Dahanayaka said they have not yet taken any decision to levy charges from the foreigners and only a discussion was held on a suggestion of the National Heritage Ministry about the possibility of levying a fee from foreigners visiting the Galle Fort.
Source: Daily Mirror - Sri Lanka