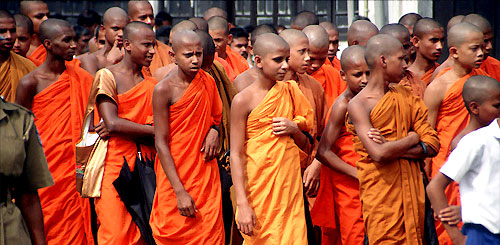 UNP led United Bikkhu Front which challenged the party's working committee to dissolve the Bikkhu Front yesterday said they would bring more than 4000 monks to Colombo on November 18 to challenge this decision and to decide on further steps.
National Organizer of the United Bikkhu Front Ven. Ulapane Sumangala Thera told a news conference yesterday that all monks would come to Colombo and decide on their next step with regard to the party. Ven Thera said the party does not have the right to dissolve the Bikkhu Front as it is a totally independent organization though it supports the party.
Ven. Thera claimed that the majority of the Bikkhus in the front are with the former office bearers and not with the newly appointed ones by the party. President of the Bikkhu Front Ven. Meethiyagoda Gunaratana Thera called for a revamp of the party stating that the UNP had been severely defeated in the last few elections.
Ven. Gunaratana Thera said that their request for a joint approach by the Party leader and the two deputy leaders to re-organize the party had been ignored by the responsible persons of the party.
Ven. Ukgoda Daminda Thera who hit hard at the party called for a complete re-shuffle of all top posts of the party. He said UNP should adopt the patriotic qualities which existed within the party from its very inception.
The monks also charged that the UNP had allowed the government to creep through with the Asset take over Bill that would destroy Buddhist businessmen.
Source: Daily Mirror - Sri Lanka