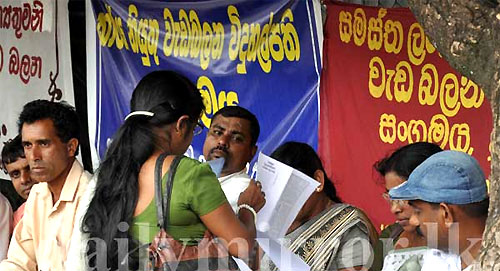 Five Principalís Unions have made allegations that the Education Ministry is taking action to recruit some assistant teachers who were recruited as acting principals to be recruited as principals with the assistance of politicians and without passing the competitive exams.
The General Secretary of the Lanka Teachers Union Joseph Stalin said at a press briefing held on November 14 with the representatives of five teachers unions that if the Government gives them the post of principals, the union would take legal action.
The press briefing was organized by the Sri Lanka National Principaíls Union, All Island Principalís Services Union, All Island Grade I Principalís Union, Graded Principalís Union and Sri Lanka Teacherís Union.
They said it was an injustice to give Principalís Posts to those who have no qualifications and have got promotions with the help of local politicians. They further said if it is necessary to fill the vacancies for the principalís posts, to have a competitive exam according to the service minute.
Source: Daily Mirror - Sri Lanka