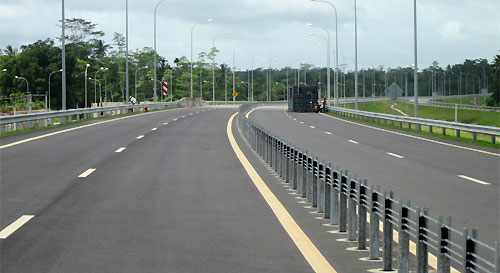 Drivers who do not maintain a speed limit of between 80 kmh and 100 kmh while driving on the Southern Expressway could be charged for either 'obstruction' or for 'speeding' as the case maybe, senior DIG Ashoka Wijethilaka, said yesterday.
"Those found guilty of violating the speed limits will be fined a minimum of Rs.5000. The violations will be gauged by way of the speed-gun and the observations made by the Southern Expressway Police Division comprising 500 specially trained police personnel", DIG Wijethilaka said.
The DIG speaking at a press briefing said that for the first time in Sri Lankan history, Fire and Rescue units and Paramedics units will be deployed by the department of Police for the Southern Expressway.
"Awareness programmes will be conducted through printed guidelines provided by the Traffic Police Headquarters. They will be distributed to all those living in and around the entry points leading to the Southern Express Highway", Mr.wijethilaka said.
"The civic consciousness is required of the people to minimize the number of accidents that might occur once the highway is opened to the public," he said. Highways Deputy Minister Nirmala Kothalawala said the Southern Expressway would be opened to the public on November 19 and 20, on which dates cyclists and pedestrians will be allowed to experience the highway. The deputy minister said the new
speed limit regulations were passed in the parliament and published through a special gazette notification.
Source: Daily Mirror - Sri Lanka