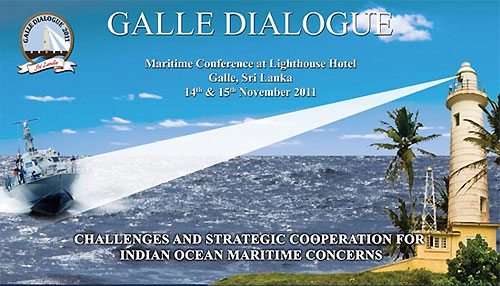 While welcoming the International Maritime Security Conference 'Galle Dialogue 2011' organized by the Sri Lanka Navy due to begin today in Galle, the United States yesterday said it recognized the importance of multilateral approaches in promoting security in the Indian Ocean and said it aimed to expand cooperation with regional partners. The US embassy in a statement said "the Galle Dialogue presented a welcome opportunity for countries in the region to discuss new opportunities for cooperation. It said US Deputy Assistant Secretary of Defence for South and Southeast Asia Robert Scher would speak at the Galle Dialogue in Galle to present the U.S. perspectives on security in the Indian Ocean.
While in Galle, Scher will meet Defence and Urban Development Secretary Gotabaya Rajapaksa and other Government officials. Scher is expected to highlight the strategic importance of the Indian Ocean, discuss opportunities for defence cooperation in the areas of demining, maritime security, humanitarian assistance and disaster response and reiterate the U.S. Government's commitment to upholding international human rights standards for all countries. "The United States has a longstanding history of being forward deployed around the globe, and the U.S. remains committed to the region. The U.S. Navy routinely operates in the Indian Ocean, conducting maritime security operations, and being poised to provide humanitarian assistance and disaster relief," it said.
Meanwhile, local and foreign scholars and experts in maritime and naval affairs are expected to share their views at this two-day dialogue held under the theme, "Challenges and Strategic Cooperation for Indian Ocean Maritime Concerns", at the Light House Hotel on November 14 and 15. Mr. Rajapaksa will deliver the key note address at the inaugural session while the welcome remarks will be made by Navy Commander Somathilake Dissanayake. The 'Galle Dialogue' initiated last year created a forum to discuss and exchange views on regional maritime security concerns. "Galle Dialogue 2011" held this year, aims to continue with the discussion with experiences of events held over the past 15 months.
Source: Daily Mirror - Sri Lanka