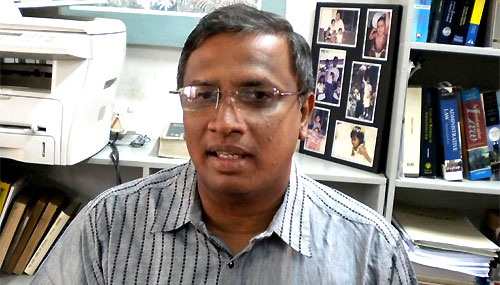 Tamil National Alliance (TNA) parliamentarian well-known lawyer M.A. Sumanthiran, in an interview with the Daily Mirror, discusses the TNAíS recent visit to Washington, the government-tna talks, the land issues in the North and East, the reconciliation process and allegations of war crimes.
Following are some excerpts from that interview:
Q: How do you justify your recent visit to Washington for political discussions with US State Department Officials, as this is being viewed in some quarters as ďtreacherousĒ?
A: I donít see why we canít talk to anybody we wish to, whether it is the US State Department or the Government of India. Last July, we went to India at the invitation of the Indian Government, and met the Prime Minister and three senior Ministers. Just prior to that the Sri Lankan President was invited there, and he met the very same people that we were invited to meet. He was told to talk to the TNA and we were told to talk to the government, and nobody regarded that as treacherous.
I have absolutely no idea why it might be even thought of as being treacherous. The Sri Lankan government discusses issues concerning the country at international foras. So isnít that disloyal? Why do they rush ministers to the UN Human Rights Council? Why do they discuss matters with foreign governments? They can sit here and say we have nothing to do with you. When Ambassador Robert Blake meets the President and the President explains what he is doing about the national question, isnít that treacherous then?
We have not said anything abroad that we havenít already stated here in the country, so there is nothing treacherous in our meeting officials of the US State Department.
Q: Housing Minister Wimal Weerawansa has said that the campaign by Tamil politicians to pressure the government over Northern lands is not fair and that Tamils donít have the exclusive right for lands in the North. Weerawansa is of the view that ďthose demanding the Northern Province for the Tamils had conveniently ignored that the Sinhalese never objected to being outnumbered in Colombo cityĒ. What is your reaction to this?
A: I agree with him entirely that we donít have exclusive rights, and we have never claimed to have exclusive rights in the North. We have also never objected to being out-numbered even in the North. Voluntary migration is perfectly acceptable. But when private lands of our people are being given away to people from other areas how can we stay quiet? Giving state lands is one thing, but giving private lands is certainly objectionable by any standard.
Q: At a recent news conference Lands Minister Janaka Bandara Tennakoon said Sri Lankaís land policy is not being implemented on an ethnic basis, and that his Ministry had tried its best to arrange a meeting with the TNA to discuss this issue. Why hasnít your party responded this?
A: How can he say that it is not being implemented on an ethnic basis when there is a circular which refers to the ĎManagement of Lands for the Northern and Eastern Provincesí only? His Ministry has issued this circular which applies only to the North and East. This is what I have challenged in Court and obtained a Stay Order. It stares in your face. Even with private disputes, people have to go before a committee comprising of military personnel. What does the military have to do with this?
We called for a debate in parliament on this issue on October 21, and the minister didnít seem to understand anything. He claimed it is being implemented for the entire country but when we showed him the circular and asked whether that was for the whole country, he sat quietly and waited. I filed the case after this debate on the 24th.
Q: What are your expectations from the LLRC report which is due to be submitted to the President shortly?
A: I donít want to be unfair by the Commission and will comment only after their recommendations are made public. However, what I can say is that the LLRC has not been mandated to look into the issues of accountability that arise from the last stages of the war. When the international community raises the accountability issue, the government points to the LLRC but this is a fraudulent act because they are mandated to find out why the February 22, 2002 Ceasefire Agreement failed.
When Prof. G. L. Peiris made the announcement in parliament, he said the government has decided to appoint a Commission along the lines of the South African Truth and Reconciliation Commission and the Chilcot Commission. I responded in my speech by welcoming it on the basis that ascertaining the truth is essential for any reconciliation.
There has been evidence placed before the LLRC with regard to what happened during the last stages of the war. But the Commission has no mandate to inquire into this material and has therefore not carried out any inquiry or investigation. They have listened to the stories of people but I canít imagine how they are going to say anything about the allegations that have been made.
There were wives and mothers who claimed to be personally present when their next of kin surrendered and they donít know what has happened to their loved ones as yet. But the Commission has not gone looking for those who surrendered nor have they tried to find out what has happened to them.
Q: How do you view the push by sections of the diaspora to prosecute senior government officials, including diplomats, over what are yet unsubstantiated allegations of war crimes? Do you think this is acceptable?
A: I wonít go so far as to say that anyone should be prosecuted. All that we have now in the words of the UN Expert Panel report are Ďcredible allegationsí. I would add that they are credible allegations as they have also been placed before the LLRC as well. Those allegations were made contemporaneously as the war was being fought also by TNA MPS, particularly Mr. R. Sampanthan. All that we say is that these are serious allegations, and such they cannot be swept under the carpet.
There must be an investigation to ascertain the truth with regard to these allegations. After the truth is ascertained, the country must decide what to do with that truth. So we donít want to jump two steps and say prosecute X, Y, or Z without knowing whether they have done anything wrong at all.
Q: Donít you want to move forward without dwelling too much on the past?
A: If there are serious allegations of war crimes, shouldnít that be a fundamental aspect of reconciliation? You canít tell a mother who is roaming the streets looking for her son to just forget everything and move forward. At least tell her whether he is dead or alive for them to have their religious ceremonies and move on. The government owes them at least that. Where does reconciliation start in such a context? It is absolutely essential to acknowledge and address the immediate past because this is an immediate issue of heart-burn for the people. It canít be simply forgotten.
Q: Could you clarify the current status of Government-TNA talks?
A: This government has been talking to TNA properly recognising that it is to the TNA that they must talk. At the very first meeting on January 10th this year, we told them about the contours of a political solution that we have in mind. The President has exactly the same vision which he outlined in his address to the APRC and the Experts Committee in July 2006. We took his speech and laid it at the table and said that our solution is exactly what his vision for a solution is.
He spoke about maximum devolution without compromising the sovereignty of the country, and that people in their own localities must take charge of destinies, security, culture, education, etc. So we were in agreement, and the government wanted practical proposals. So in our second meeting we gave them some practical proposals in the form of a discussion paper. They wanted a comprehensive paper. We agreed and on March 18th at the third meeting, we gave them a comprehensive paper.
Then they said that it was too comprehensive for them to respond immediately, and asked for some time. We were alright with this. But we had seven meetings after this, and at every meeting they started with an apology for not being prepared to respond to our paper.
In the meantime we had various other discussions. They suggested a senate and we said that we were agreeable but a senate is not a substitute for power devolution. A senate can only be complementary to that. They also suggested Ďgrama rají or local authorities, we were agreeable to that too. But that again is not sharing of governmental power.
Then at our 10th meeting on August 4, they were still not ready to declare their position with regard to our proposals which they themselves invited. That is the reason why we said there is no point fixing another date. Our position was that we should meet once the government is ready to respond to our proposals. that was made out to be that the TNA is behaving like the LTTE, the TNA is setting deadlines and the TNA is laying down conditions. But it would be foolish to go for yet another meeting without a response.
Thereafter the President met Mr. Sampanthan and they resolved the issue. The President explained that he canít respond and put down a paper because that will be leaked and making adjustments thereafter would be difficult. We understood that and the agreement was that five previous proposals would be considered: the Mangala Moonesinghe PSC, three proposals made during President Chandrika Kumaratungaís period (1995, 1997, and 2000), and the APRC Expert Committee Majority Report. We brought this to the table as being the governmentís stance on devolution.
We recommenced talks on September 16. On October 20, we had the last meeting but didnít have any discussion on this at all because only two government representatives were available and they were not ready to discuss anything. The next meeting has been fixed for November 16.
Q: How might these talks fit in with the PSC that is being set up to address the national question?
A: We have agreed to be a part of the PSC on the basis of a promise given by the President that any agreement entered into between the Government and the TNA at bilateral talks will be taken to PSC as the Government-tna agreement. Unless we agree between us first, there will be no point in a PSC. We are willing to engage constructively in dialogue but the government should not drag this.the indications we have from the Sinhala people through their representatives is that a large majority of them are in favour of a properly devolved structure of government. Most importantly, many senior ministers are supportive of that. So we should not lose sight of that and try as best as possible to remove any suspicion that the Sinhala majority might have with regard to a devolution arrangement.
Q: What are your views on the Muslim factor? Muslim political leaders have not been as vocal as Tamil political leaders. Do you think that the Muslim community should be accorded greater recognition in the reconciliation process?
A: Yes, they should definitely be given greater recognition. In fact, the TULF election manifesto of 1977 specifically recognises the right to self-determination of the Muslims as a distinct community. In our last election manifesto of April 2010, we talked about the unit of devolution and we said any merged unit must be brought about only with the consent of the Muslims. We are strongly convinced of that fact.
It is true that the Muslims, in this whole debate, have not been as vociferous as we have been for various reasons. Itís a dilemma for us, frankly, whether we speak for the Muslims or not. In recognition of their separate identity, we have striven somewhat not to speak for them so that they have their separate voice. But we have then been accused of not standing up for their rights. So that dilemma still continues. But we are in constant touch with the Muslim parties and with parties representing the up-country Tamils. We are trying to see that whatever solution that comes about adequately takes their concerns into account and ensures their political rights as well.
Q: Finally, what in your view are the essential elements of a durable peace in Sri Lanka?
A: We are a plural society, and all people of this country must be equal citizens. That equality cannot be achieved through a simple majoritarian democratic institution. Adjustments and provisions will have to be made to ensure that people who are inferior in numbers can have a measure of autonomy with regard to governmental power at least in areas where they constitute a majority. This is not something new but has been practiced in many parts of the world as a way of balancing different interests. So weíd like to see a re-structuring of the government to accommodate the different peoples so that we can achieve a greater measure of equality with regard to our political rights.
Source: Daily Mirror - Sri Lanka