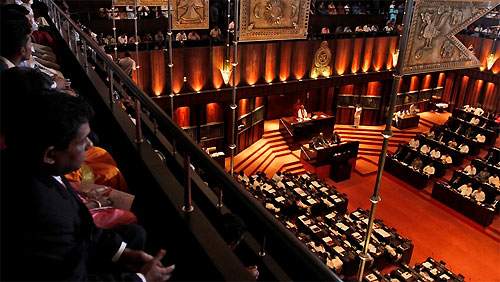 The government yesterday sought Rs. 28 million from parliament as additional expenses for senior ministers.
Supplementary estimates of Rs. 16 million and Rs. 12 million were presented to parliament separately by Chief Government Whip Dinesh Gunawardene for the office of senior ministers for salaries and allowances, vehicle maintenance and foreign travel.
House approval was also sought for Rs. 200 million for progress review meetings on government development programmes at district level and to coordinate programmes to maintain the international image of Sri Lanka. The government also sought Rs. 75 million for the Department of Government Printing for paper imported for the past local government elections.
Supplementary estimate also revealed that Rs. 5 million would be spent for infrastructure development for the 'Dayata Kirula' exhibition 2012 in Anuradhapura.
Funds were also requested for the purchase of vehicles for several ministries including Disaster Management, Education, Water Supply and Drainage. Also 550 new motor bikes will be purchased for the police at a cost of Rs 190 million.
Source: Daily Mirror - Sri Lanka