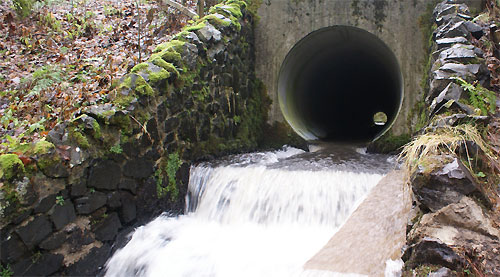 A culvert constructed by the people in the Maddinnagoda area in Kotte after collecting money and using a concrete tube, had been removed by the Sri Jayawardenapura Kotte Municipal Council, yesterday.
The people in the area charged that the removal of the culvert that brought them much inconvenience which was an act of political revenge.
The culvert interconnecting Ihalawelikada and Madinnagoda, Rajagiriya were taken off by the Sri Jayawaredanapura Kotte Municipal Council, yesterday leaving the people in the area in the lurch.
The culvert had been constructed by the people in the area at their own expense since the authorities had been turning a blind eye, for three years. The Maddinnagoda people cite the incident as political revenge being expressed by the mayor after they voted for someone else from the same party.
"We are the victims of the preferential voting system, not the politicians, the only other road that leads to Ihalawelikada is very steep and we have to climb 54 steps.", said Chamila Nishanthi(38), a house wife living in the area.
The Mayor, Janaka Ranawaka when contacted, refuted the allegations. "How can I take revenge from the people who voted for me? I had to take off the tubes since it was an illegal construction. Maddinnagoda gets inundated even after a drizzle, so I'm waiting for a feasibility report by the respective engineers for a proper construction. For the next three years, my only goal is to make Kotte Municipality an area without floods.
Nandasena Perera(68) who takes care of a family of 12, said, "Every government which ruled this country since 1958 neglected ' Madinnagoda' , which is a favorite spot for most of the politicians since they all come in line during the elections to give away promises that have never come true.
Source: Daily Mirror - Sri Lanka