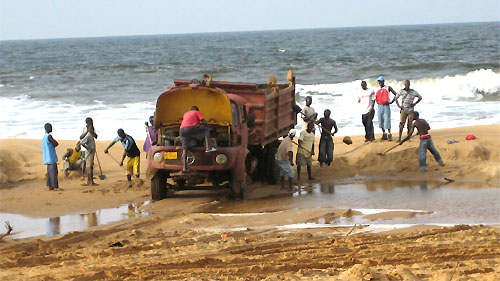 Sri Lanka will go in for large scale sea sand mining to prevent a looming environmental disaster caused by the mining of river sand, the Environment Ministry said yesterday. It said a proposal submitted by minister Anura Priyadarshana Yapa had received cabinet approval.
He said the legal and illegal We have prepared a river sand minproject proposal to mine ing for centuries sea sand, wash has changed the them and issue it flow pattern of to the market for rivers and the use in the erosion of river construction banks has industry caused floods and earth slips.
The minister said water levels in rivers had dropped preventing the retention of water on the river bed.
"We have prepared a project proposal to mine sea sand, wash them and issue it to the market for use in the construction industry. The green light has already been given to the Sri Lanka Land Reclamation and Development (SLRDC) to do the job," he said.
The minister said the Environment Ministry would strictly control river sand mining in future, but he admitted the necessity for a mechanism to fill the gap created in the construction industry by restricting river sand mining.
Sri Lanka requires 14 million metric tons of sand for the construction industry. The sea sand mining and washing will be done as a joint venture of the Central Environment Authority, the Geological Survey and Mines Bureau and the SLRDC.
Source: Daily Mirror - Sri Lanka