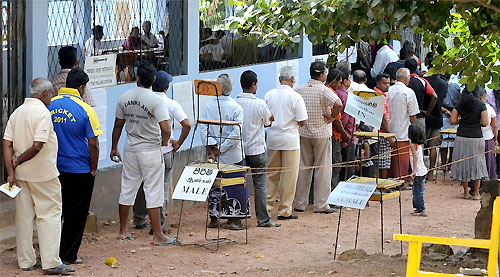 PAFFREL urged the public to register themselves in the Electoral Registry 2011 before November 2011 as the Department of Elections has taken steps to display the documents containing details on the recommended names to be registered in the Electoral Register and the names recommended to be removed from the register out of the names specified in the forms filled out by the heads of the households and submitted to Registering Officers starting from last Wednesday. The public will be allowed to register until November 30. They also can check with the District Elections Office, Divisional Secretariat, Grama Niladhari Office, Post Office and Local Government Authorities whether their names are displayed, PAFFREL Executive Director Rohana Hettiarachchi said.
"If you are an eligible person to be registered and your name and NIC number is not on the register or if it is mentioned incorrectly, the public can ratify it by submitting the duly completed Claim Form which can be obtained from the above mentioned places on or before November 30 addressed to the District Secretary (Registering Officer) or Assistant Registering Officer at the District Elections Office," he said.
"If you have any objection regarding the inclusion of any name you can obtain an Objection Form from the same place and submit the duly completed form to the three offices mentioned above," he said.
Source: Daily Mirror - Sri Lanka