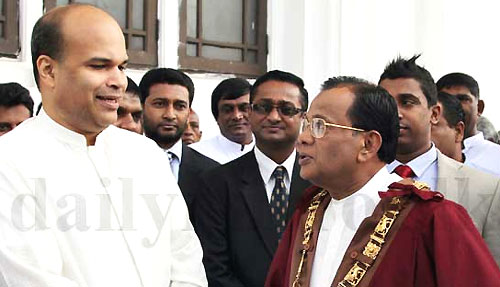 The UNP together with People's Democratic Front secured majorities in 14 standing committees out of a total of 16 in the Colombo Municipal Council (CMC) yesterday though it was expected that the UPFA led opposition would secure a majority. The UNP and DPF won a majority in all the committees excepting the Establishment Committee and the Law Committee. Opposition leader Milinda Moragoda was elected to the Establishment Committee. Mayor A. J. M. Muzammil heads the Finance Committee in which three other members from the UNP were elected. They included Deputy Mayor Titus Perera. DPF leader Mano Ganesan was also elected to the Finance Committee. Asath Sally was the solitary member elected from the UPFA for this committee
Unity was displayed among the members of both benches in the Colombo Municipal Council (CMC) at its inaugural session yesterday with Mayor A. J. M. Muzammil stating that there was no such thing as an opposition and ruling party in the council as per the Municipal ordinance
Mr. Muzammil who addressed the sessions earlier in the day said there is no such thing as the ruling party and opposition in the Council.
He therefore said all must work together as one.he said the ordinance had been based on the Doughnomore Constitution under which there was a committee system in the state council where the government and the opposition worked together. "We should work together for the common people as it was they who elected us to the local body," he said.
Mr. Muzammil however said he was saddened by the events which took place during the past few days and said everyone should put those things behind them and work together. Opposition leader Milinda Moragoda said the UPFA would support the Mayor in all his positive steps but would oppose all the negative ones. Approving the statement made by the mayor that all council members had been elected by the common man he said that all members should work for the betterment of the people. He however refrained from commenting on any of the incidents that had taken place in the council in the recent past.
DPF Member Mano Ganesan said Mayor Muzammil and his party had been given a mandate by the people to govern the council and it was he who should govern the CMC. He however stressed the need for equal status for both Sinhala and Tamil languages. He made this point with regard to the translation facilities which were not available at the council chamber yesterday.
JVP Member Sunil Watagala said there were several serious issues with regard to the City of Colombo which should be addressed. He said action should be taken to prevent the flooding of the city during bad weather and the livelihood of three wheeler drivers should also be safeguarded. He said he would follow his party line and fight corruption.
Source: Daily Mirror - Sri Lanka