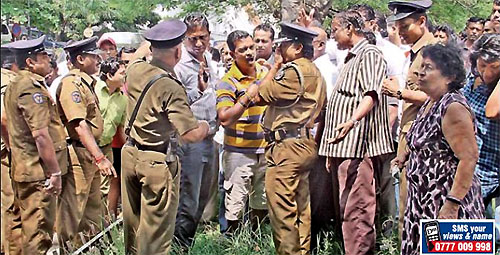 Large crowds in support of and against the controversial 'Revival of Underperforming Enterprises and Underutilized Assets Bill' were gathered outside the Hulftsdorp Superior Courts Complex yesterday as Ven,. Thiniyawala Palitha Thera had filed a fundamental rights violation petition against the bill. UNP Ampara District organizer Daya Gamage who heads Daya Group of Companies that owns the Sevanagala Sugar company accompanied by UNP heavyweights Karu Jayasuriya, Sajith Premadasa, Ravi Karunanayake, Mangala Samaraweera and others arrived at the Supreme Court complex in anticipation that the petition would be taken up. However, the petition was not taken up by the court yesterday.
A group that was outside the courts complex was holding a banner stating that they were supporting the bill which was brought to acquire assets that were bought at a low price. However, they were prevented from moving towards another group that was against the bill.
A large number of policemen were also deployed outside the Superior Courts complex to prevent any clashes between the two groups.
Ven. Malambe Seelaratana Thera who was with the group against the bill said they were requesting the government to remove the Sevanagala Sugar Company from the list of companies to be acquired. "This is what even the Malwatta Mahanayaka Thera is requesting from the government," he said.
Source: Daily Mirror - Sri Lanka