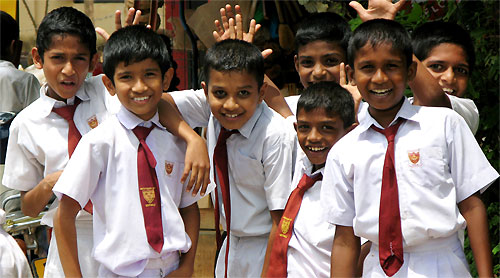 The Education Ministry will introduce overall changes to the national examinations next year making it compulsory for students to choose their GCE A/L study stream at Grade nine, instead of waiting till they complete their GCE O/L examination, Minister Bandula Gunawardane said yesterday. He said the new policy would be introduced next year along with major changes to the entire school education system to be implemented from 2013 onwards.
The parliamentary consultative committee which was set up to work out this policy has wrapped up its proceedings and is preparing its final report to be tabled in parliament. Minister Gunwardane said it would be mandatory for the students to complete six core subjects for the O/L examination from 2013 and three optional subjects in relation to their chosen stream of study for the A/L examination.
The core subjects are the Mother Tongue (either Sinhala or Tamil), the Second Language (English), Mathematics, Social Study, Religion and Science.
"In addition to these subjects, Grade-nine students will have to choose three other subjects related to their A/L studies. If a student intends to take up Commerce Subjects for the A/L exam, he or she should select accounting, economics and business studies. In such a context, they can enter the A/L classes with a basic understanding of these subjects. Today, students do the O/L exam and start A/L studies without any knowledge of the subjects involved. It is burdensome for students," the minister said.
Similarly students who intend to do their A/L studies in the science stream will be given a basic understanding of Chemistry, Biology and Physics from Grade-9 to 11.
At present it is mandatory for students to study six core subjects along with three other subjects selected from three different subject baskets. The Minister said this system of selecting subjects from baskets would be abolished with the introduction of the new policy next year to be implemented the following year.
"When students select subjects from these baskets, they choose subjects which have no relevance to their advanced level studies," he said.
The minister said a similar system for A/L studies was adopted during the time of the late C.W.W. Kannangara who was a former minister of education.
"Today, the A/L exam is too advanced for students. What is meant for university students is sometimes taught to A/L students," he said.
Source: Daily Mirror - Sri Lanka