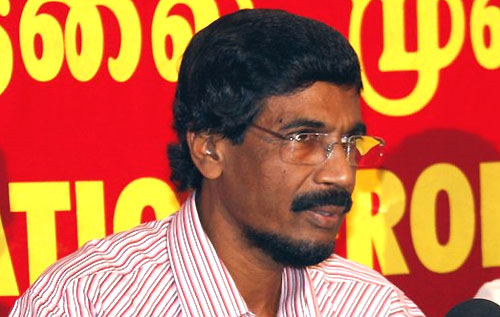 The General Secretary of the JVP Tilvin Silva reiterated his party's commitment to the policies of the JVP founder leader Rohana Wijeweera.
Addressing a public meeting at the Horana Town Hall to create awareness on future programmes of the party he said Rohana Wijeweera formed the JVP to revolutionise the country under a real socialist policy and that the party would always follow his footsteps.
He went on to say: "The JVP is the only political party that upheld the policies of the founder leader and the main objectives of the party even at the cost of its members' lives. The JVP has the strength to face any future challenges or threats in its endeavour to form a socialist country. The party has organised a series of public meetings to create awareness on the crises facing the people and the way out.
Ours is a capitalist country. However, capitalism has failed to solve the problems of the people living in any part of the world. It was about 150 years ago that the Marxist leaders forecast the predicament of the people living in capitalist countries. Sri Lanka had a fair share of it.
The capitalist superpowers have massacred in cold blood more than 20 million people in different parts of the world during the two major world wars.
The people all over the world have taken up arms against capitalist leadership. All the efforts of capitalist leaders for survival during the last 500 years have failed and they are facing a serious situation today. We will go deeper and deeper into this mire unless we switch to socialism. The need of a socialist policy has been felt more than ever today.
This demands an experienced leadership of a leftist political party. The JVP is the only political party that can meet this demand. The JVP faced serious debacles in 1971 and 1989 and even lost its founder leader. However the party has not changed its policies and objectives in any manner.
It is a misconception that the JVP is in a crisis. The individuals who attempted to create this impression at the instigation of its enemies are no longer in the party. Truth will triumph and the people will soon realise the facts."
The JVP activists of the area and several local politicians of the party attended the meeting.
Source: Daily Mirror - Sri Lanka