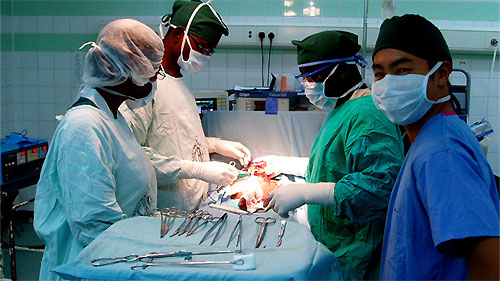 Despite protests by local medical faculty students and government doctors, the South Asian Institute of Technology and Medicine (SAITM) said yesterday it expects to receive permission to begin clinical lessons for SAITM medical students at three private hospitals in Colombo.
This week the Medical Faculty Students Action Committee which comprises medical students from all local universities in the country held a protest outside Nawaloka hospital in Colombo where SAITM medical students are expected to take up their clinical lessons.
"A private institution that should not have legal recognition and which does not have the approval of the medical authorities in the country should not be allowed to send their students for clinical training in hospitals," Medical Faculty Students Action Committee President Nilan Fernando said.
SAITM Director Dr. Sameera Senaratne however said that the institute would hand in all necessary documents to the Sri Lankan Medical Council (SLMC) and the Health Ministry this week for permission to perform clinical classes in three hospitals after which there will be negotiations with the hospitals.
Dr. Senaratne said SAITM'S teaching hospital which had begun construction already recruited staff and ordered necessary equipment for the hospital worth Rs.500 million. The total cost of the teaching hospital was Rs.1.8 billion, he said.
He denied statements made by the Government Medical Officers Association (GMOA) which alleged that the institution had not adhered to the conditions that should be fulfilled by the institution according to the gazette notification issued in August.
"The GMOA has been making false statements. We have adhered to all the recommendations of the University Grants Commission. As a registered medical faculty no one can question our credibility," Dr. Senaratne said.
Source: Daily Mirror - Sri Lanka