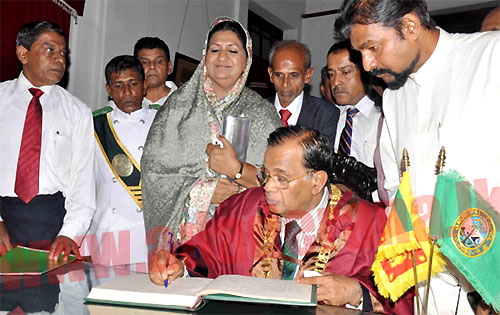 Colombo Mayor A. J. M. Muzammil yesterday charged that UPFA members of the CMC had defied President Mahinda Rajapaksa by taking over rooms at the Town Hall even before the new administration was formed.
Mr. Muzammil who was referring to the opening of an opposition leader's office at the CMC on Monday, said UPFA members had defied President Rajapaksa who had said he would work towards building a new political culture instead of traditional hostile politics currently practised by both the ruling party and the opposition in any elected body.
He said he was sad to see a UPFA member of the council locking up a room and taking the keys with him on Monday. "I am saddened that none of these opposition members have come for this ceremony," he said stating the absence of the opposition members was also an act of defying their leader President Rajapaksa.
Reiterating that he was the Mayor of all city dwellers, the new Mayor pledged that he would not betray them and the political party he belonged to in any way. However, he said no one should misunderstand his desire to work with everyone representing the CMC as his weakness.
The Mayor announced that he had also obtained the support of Peoples Democratic Front (DPF) members led by Mano Ganesan.
UNP Deputy Leader and former Colombo Mayor Karu Jayasuriya who also addressed the gathering said it would be an act of revenge if the opposition in the CMC tried to shackle the new mayor and the administration.
He also called upon the officers attached to the Municipal Council to work according to the will of the people without allowing politics to interfere in the affairs of the council. "Bring about a revolutionary change to the Colombo city," he told the Mayor, the council members and the officers of the CMC.
The presence of UNP Co-deputy Leader Sajith Premadasa, MPS Talatha Atukorala, Ranjith Madduma Bandra, Palitha Thewaraperma, Dayasiri Jayasekera, was a notable feature while MPS Joseph Michael Perera, John Amaratunga, Dr. Harsha De Silva, R. Yogarajan and Eran Wickramaratne were also present. Former Colombo Mayor Prasanna Gunawardene and Matale Mayor Hilmy Mohammed also participated in the ceremony.
Source: Daily Mirror - Sri Lanka