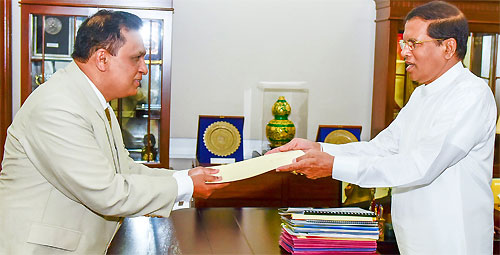 The law would be implemented according to the book at the Bribery Commission, the newly appointed Director General, President's Counsel Sarath Jayamanne said today.
"No one will be a suspect or a criminal, prior to the investigation just because someone appeared before the Bribery Commission. I will carry out the duties according to the law," the new Director General said while assuming duties.
He was appointed Director General of the Commission to Investigate Allegations of Bribery or Corruption by President Maithripala Sirisena on November 10, following the resignation of former Director General of the Commission Dilrukshi Dias Wickramasinghe.
The former DG resigned from her post at CIABOC due to a statement made by the President on 17 October criticizing certain dealings of independent commissions.
Then, the Deputy DG Sunethra Jayasinghe served as the Acting Director General until last Wednesday. Mr. Jayamanne said technical and scientific assistance would also be obtained, when conducting investigations.
"My main goal is to conduct investigations rapidly as a team in an efficient and professional manner. I will hand over the progress of the investigation to the Commissioners," he said.
He said legal action in the cases would be taken on the recommendation of the Commissioners.
The new DG Sarath Jayamanne previously served in the post of Additional Solicitor General at the Attorney General's Department.
According to the Bribery Act, the highest structure of CIABOC is the commission comprising of three commissioners. Prior to the Director General of the Commission taking up a complaint on bribery for investigation and before filing legal action in connection with a complaint received, he or she has to obtain the approval of at least one of the three Commissioners.
Source: Daily Mirror - Sri Lanka
comments powered by