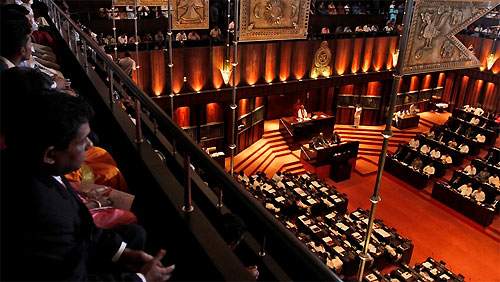 The digital voting system will be introduced in Parliament before this year's budget debate and new technology will be used for further improvement and democratization of Parliamentary business, Speaker Karu Jayasuriya said.
Senior Parliament correspondent Ajith Jayasinghe receives his tab from Speaker Jayasuriya at the ceremony watched by Deputy Mass Media Minister Karunaratne Paranawithana.
Speaker Jayasuriya speaking at a ceremony held in Parliament to mark the distribution of tabs among Parliament correspondents added that a legislature could not remain naïve to the advancement of technology that has engulfed and developed all other sectors of human life.
"Therefore, the Sri Lanka Parliament will become one of the most techno savvy legislatures in South Asia before long. I dedicate myself to achieve this target that will also contribute to improve the quality and dignity of our Parliament, he stressed.
The enactment of the Right to Information (RTI)] Act has given an added responsibility to Parliament and law makers as the Parliamentary business is in full public domain. With the digitalization of Parliamentary business, people have the quick access to debates, committee meetings and other Parliamentary business which also can be considered as full democratization of Parliament, Speaker Jayasuriya stressed. Speaker Jayasuriya said the media has the ability to make a Bodhisathva a rogue and a rogue a Bodhisathva. The task is easier and interesting with the use of technology. Therefore, it is the responsibility of journalists to use new technology with more restrain and self discipline, he said.
He added that the electronic tab given to media personnel would make their job more convenient. It will also make them accessible and contactable with their sources, contacts and their colleagues with news updates from where ever they are in the world.
Mr. Jayasuriya expressed his deepest gratitude to Communication and Digital Infrastructure Minister Harendra Fernando for organizing and providing tabs to be distributed among media personnel.
Source: Daily Mirror - Sri Lanka
comments powered by