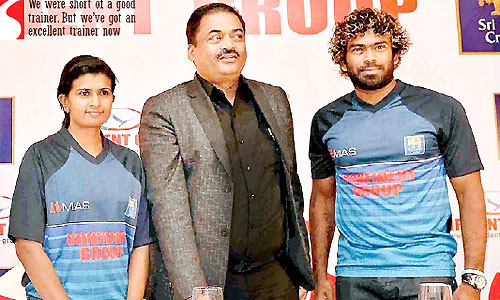 Sri Lanka T20 captain Lasith Malinga has shed his onceconspicuous pot-belly and looked for once like he seriously meant business ahead of next year's ICC World T20 in India when he attended a media conference on Saturday to announce Sri Lanka's new team sponsor for the tournament.
Sri Lanka Cricket Interim Committee chief Sidath Wettimuny paid a glowing tribute to the national team's newly acquired trainer Michael Main for curly-haired Slinger's remarkable transformation.
"We were short of a good trainer. But we've got an excellent trainer now. As you can see Lasith is firing from all cylinders. He's looking very trim and slim and I believe the rest of our team is also trim and slim" said Wettimuny.
Sri Lanka team's fitness issues had been simmering for a while and came to surface in July last year when the then SLC Cricket Committee Chairman Ranjit Fernando expressed his concerns through a letter written by SLC'S Head of Cricket Operations Carlton Bernardus.
"Based on reports received from selectors on tour and observations made by members of the Coaching & Cricket Committee, it was felt that the intensity of training and the fitness levels of both National and 'A' team players should be enhanced greatly" stated in a letter circulated among SLC top officials.
Then in July this year, former Sri Lanka fast bowling icon and national fast bowling coach Chaminda Vaas told media that the Sri Lanka fast bowler were fat and unfit.
"Our fast bowlers are currently overweight. They need to train hard and make sure they emphasize on fitness" Vaas was quoted as saying.
Michael Main joined Sri Lanka Cricket as the Trainer of the National Team from June 1 this year. He was the Head of Strength and Conditioning at Hampshire county cricket team under ECB before joining SLC. Main holds a Master's Degree in Strength and Conditioning from the University of Teeside, England, while completing his bachelor's degree from University of Worcester in Sports Studies and Physical Education. He had also worked with ECB in their young fast bowlers training programme. Before Main, Darshan Weerasinghe, Mario Villavarayen and Australian Jade Roberts handled the Sri Lanka national team.
National coach Jerome Jayaratne admitted that Main was doing a tremendous job. "He is doing some amazing stuff with the boys. He is very knowledgeable and tolerates no nonsense. He is also very open and forthright. If a player has a problem, he will inform them directly in front of selectors" said Jayaratne who is also SLC'S Head of coaching.
"In my job I have been to various institutions and countries and have seen all types of trainers. But I have never seen anyone as efficient as Main, he is definitely among the best in world. He follows his own methods and has achieved stupendous results" said Jayaratne who added that "it is even more stunning considering he is just 27 years old".
Wettimuny said that they have done the best for the team. "We have now got a very good nucleus within our squad. We've set the management team right. That's all we could do. In January there should be elections. I am pretty confident that we have set the base to have a happy dressing room and a very good management team".
"We can only prepare and hope for the best. But I can assure you they (the team) are in the right frame of mind. They are preparing very well. They have what it takes to go and win that championship" claimed Wettimuny.
Malinga was rather philosophical about his team's chances and said the intensity of their training would be directly proportionate to the results they could bring. His statement also makes it clear why he has concentrated heavily on his own fitness.
"If we fill a glass with water, we can only take out the amount that we pour in. We intend to indulge in all the training possible to sharpen our skills before we leave for the tournament" said Malinga. Malinga also claimed that the tag "defending champions" meant nothing in the new tournament.
"Victory is just another landmark. Being defending champions is only something that happened in the past. Whether we are capable of taking it forward will be decided by the way we play now. A T20 match is something that can change in an over or even in one delivery. As a team, we expect to develop the level of personal skills of everybody in the team. What you do within the match brings the results" said Malinga.
"We hope to perform well under the flag of the country. If every player performs at his personal best, there is a good chance that we can finish the tournament on a high" said Malinga.
Source: Daily Mirror - Sri Lanka
comments powered by